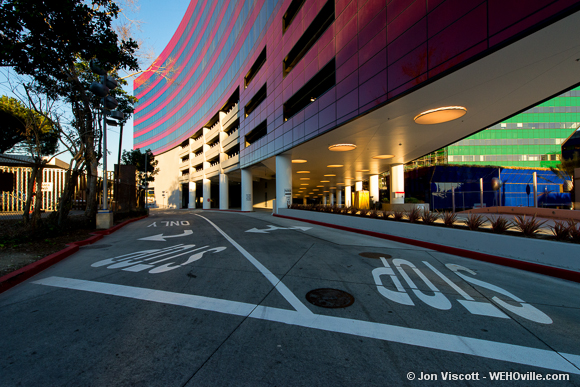 The Pacific Design Center's Red Building has added a new tenant and an existing one is expanding.
The new tenant is the Abrams Artists Agency, a talent and literary agency, which has signed a long term lease for 15,650 square feet on the 11th floor of the Red Building. Clique Media, an international advertising firm focused on digital content strategy, is expanding its space by 10,000 square feet onto the 9th floor of the Red Building, giving the company a total of 30,000 square feet.
The decision by Abrams to move into the 400,000-square-foot Red Building and by Clique to expand in it would seem to validate its owner's strategy of accepting only long-term leases at above market rates. "If you build it, they will eventually come," said an L.A. Business Journal story about the building's initial difficulty in finding tenants.
The Red Building is part of the three-building PDC complex bounded by Melrose Avenue on the south and San Vicente Boulevard on the west. Designed by noted architect Cesar Pelli, construction began in 2007 and was completed in 2013. Until last year it had been empty except for a West Coast office for Cohen Brothers Realty, which owns the PDC. Then in March Cohen Brothers announced four new tenants — Whalerock Industries Inc., an independent media/technology company is headed by former ABC Chairman Lloyd Braun that delivers content across all devices and has strategic alliances with major content providers, including MGM, Starcom MediaVest, P&G, AOL, YouTube and Microsoft; Gaumont International Television, a producer of drama and comedy television programming for the U.S. and international markets' AllSaints USA, a U.K.-based clothing retailer, and Criteria Corp, a provider of web-based pre-employment testing services.