Leslie Jordan, the Emmy Award winning actor known in West Hollywood for his feisty personality as well as his Southern drawl, is making hay out of the notorious homophobic incident at WeHo's Starbucks in July.
Feinstein's at the Nikko, a cabaret at one of San Francisco's most posh hotels, is featuring Jordan in a one-man show called "Not In My House!" The show takes its title from what Jordan shouted on July 29 when three young and apparently heterosexual men began using the slur "faggot" and making other homophobic remarks inside the Starbucks coffee shop at 8598 Santa Monica Blvd. at Westmount. That coffee shop, known by some as the BGS ("big gay Starbucks"), is a major gathering spot for gay men in West Hollywood.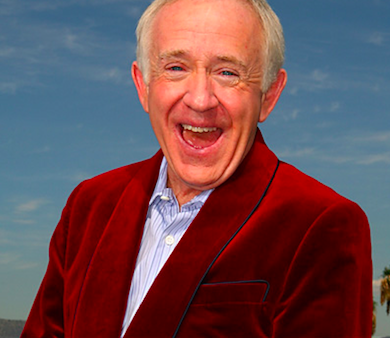 Joseph Daniels, a photographer who was present at Starbucks during the July incident, told WEHOville that the manager of Starbucks asked one of the men to leave. As he left, Daniels said, "he was screaming and pointing 'you will die f–ing faggots'. It was very scary and unexpected."
That's when Jordan yelled at the men to leave, saying "get out of my house." Jordan, who at 4'11" is known for his diminutive stature as well as his Southern accent, is a regular at that Starbucks. Daniels said Jordan followed the men outside objecting to their language, and he and another customer walked outside to protect Jordan. "The guy lunged at Leslie to hit him," Daniels said of one of the men. "Then Leslie threw his drink at the guy. Then (another) guy threw his drink to hit me."
Daniels said Sheriff's deputies showed up quickly and spent about 45 minutes interviewing those present at the altercation. He said deputies urged the gay men not to file charges against the others, saying that if they did the men screaming "faggots" could accuse Jordan of assault for throwing his drink at one of them.
Feinstein's will host two performances of Jordan's show — at 8 p. m. on Nov. 13 and 7 p.m. on Nov. 14. Tickets for the show range in price from $25 to $40 and are available by calling (866) 663-1063 or visiting www.ticketweb.com.
Jordan arrived in Hollywood in 1982 (with $1,500 sewn into his clothing by his steel magnolia mother). After a brief career as a jockey, he began his long and up and down quest for a career inn the entertainment industry. Leslie Jordan is the prestigious Emmy Award winner in 2006 for "Will & Grace". He has enjoyed great reviews for his original stage plays ("My Trip Down the Pink Carpet," "Stories I Can't Tell Mama," "Fruit Fly"). He has been praised by critics for his off-Broadway musical theatre debut in 2011 ("The Lucky Guy"). Jordan also was the author and star of his own HBO special, "Pink Carpet." He won the Emmy in 2006 for his role in "Will and Grace."
The Big Gay Starbucks was the site of a more recent altercation on Sunday, although there was no homophobia involved. According to witnesses, two men got into a fight just outside the Starbucks. One was hit and fell to the ground, hitting his head. Sheriff's deputies, firefighters and an ambulance arrived. According to Sgt. David Valentine of the West Hollywood Sheriff's Station no arrests were made because the man said to have been assaulted told deputies that he had fallen accidentally and denied the assault.