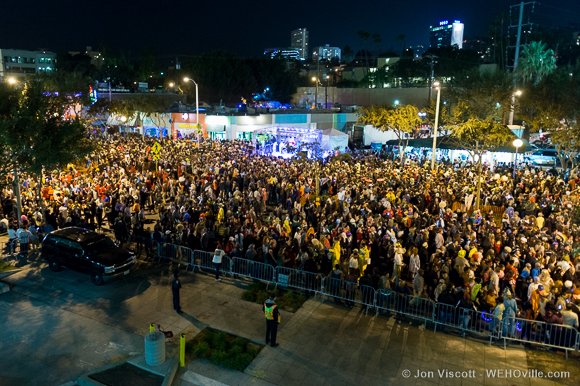 Love WeHo's Halloween Carnaval but can't take the crowds? Worried about traffic and parking? Well this year you can watch it from home in as outrageous a costume as you like.
The City of West Hollywood will debut on Saturday a live hosted broadcast of Halloween happenings on WeHoTV web and cable channels. The broadcast will take place from 7 to 11 p.m. and live streaming will be available online with a link provided at www.weho.org. WeHoTV is available to Time Warner Cable customers within West Hollywood on channel 10. AT&T U-verse customers across Southern California can access WeHoTV on channel 99.
And this broadcast won't be like one of those CNN summaries of a Presidential debate. It will be hosted by Willam Belli, drag sensation and YouTube phenomenon, and Christine Devine, Emmy Award-winning television news anchor on Fox 11 News (KTTV). Belli, simply referred to as Willam, became famous from his appearances on RuPaul's Drag Race (Logo TV). In West Hollywood, he also is known for his performances in the city's public service announcements on YouTube: Alice in WeHoLand and The WeHoans. Devine anchors the weeknight newscast at 10 p.m. on Fox 11 News. She has 16 Emmy Awards, including the Governors Award from the Academy of Television Arts and Sciences.
Coverage will be co-hosted by comedians Fortune Feimster ("Chelsea Lately" and "The Mindy Project") and Drew Droege ("The Groundlings" and "Upright Citizens Brigade"). Feimster, known as the loveable Southern comic, travels the world doing standup comedy; she recently performed in front of 15,000 people as part of Dave Chappelle and Flight of the Conchord's "Oddball Fest." Droege is best known for his online videos as Chloë Sevigny, which The Advocate has called "compulsively watchable." He is the recipient of Outfest Film Festival's Special Programming Award for Emerging Talent, one of OUT Magazine's Out 100 and one of L.A. Weekly's Top Comedy Acts to Watch.
WeHo's Halloween Carnaval will take place Saturday from 6 to 11 p.m. on Santa Monica Boulevard between Doheny Drive and La Cienega Boulevard. With an estimated attendance of several hundred thousand people, the Halloween Carnaval is the world's largest Halloween festivity. Staged over a one-mile stretch of Santa Monica Boulevard/Historic Route 66, this year's Halloween Carnaval will feature seven entertainment areas featuring bands, DJs, dancers, artists and painters who will entertain wildly dressed crowds. Children and pets are discouraged from attending because of dense crowds.
This year's Halloween Carnaval marks a milestone for the City of West Hollywood, as the city wraps-up a year of celebrations to recognize 30 years of cityhood. In keeping with an anniversary theme, Halloween Carnaval 2015 will pay tribute to the 40th anniversary of the "Rocky Horror Picture Show." First released in 1975, this musical comedy horror film has become an international cult classic and is the longest-running theatrical release in film history. West Hollywood Mayor Lindsey P. Horvath and members of the West Hollywood City Council will welcome Rocky Horror Picture Show icon Tim Curry, who will be named the city's Honorary Mayor. The ceremony will take place at 8:45 p.m. at the San Vicente Stage located at the intersection of Santa Monica and San Vicente Boulevards. Boy George, universally recognized as one of the music scene's most iconic artists, will make an appearance at the San Vicente Stage. The city invites Carnaval-goers to get into the spirit and show-off costumes by uploading photos to social media sites with the hashtag #wehohalloween. There will also be photo stations to capture images for display at www.facebook.com/wehocarnaval.
West Hollywood Halloween Carnaval 2015 is sponsored by the City of West Hollywood and produced with Authentic, a branded entertainment and experiential marketing agency.
Specifics about street closures in West Hollywood on Saturday, and Sunday can be found online http://www.weho.org/visitors/events-in-the-city/halloween-carnaval/street-closures as can details about parking restrictions.
For more information regarding transit options, or the City of West Hollywood's PickUp or Cityline, please visit: www.metro.net, www.weho.org/wehopickup, or www.weho.org/cityline.
In addition to WeHoTV's live stream at www.youtube.com/wehotv the city's WeHoTV will provide a broadcast-quality satellite feed for media use at http://video.streamingmedialive.com/V0PzjTOc. This is a live broadcast and due to the nature of the event, viewer discretion is advised.