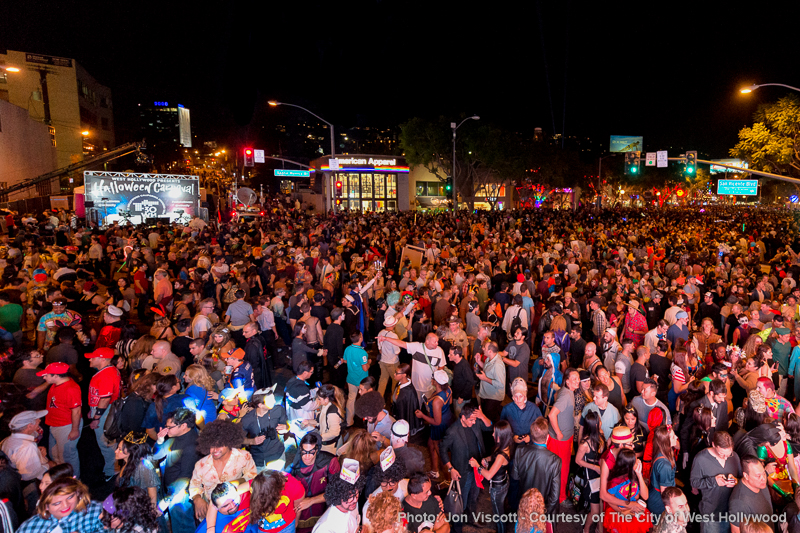 West Hollywood's annual Halloween Carnaval, the largest such event in the world, attracted hundreds of thousands of people to our little burg on Saturday. It was a remarkably diverse crowd including people of various ethnicities and age and sexual orientations. What unified them was that many wore colorful and sometimes crazy costumes that buttressed the WeHo's reputation as "The Creative City."
There were some notables. Boy George made an appearance, and posed for a photo with the City Council members. And Rocky Horror Picture Show icon Tim Curry accepted his designation as the city's Honorary Mayor. Halloween Carnaval 2015 paid tribute to the 40th anniversary of the "Rocky Horror Picture Show." First released in 1975, this musical comedy horror film has become an international cult classic and is the longest-running theatrical release in film history. And Carnaval's first live broadcast, on WeHo TV, was hosted by Willam Belli, the drag sensation and YouTube phenomenon, and Christine Devine, the Emmy Award-winning television news anchor on Fox 11 News (KTTV). Belli, simply referred to as Willam, became famous from his appearances on RuPaul's Drag Race (Logo TV). In West Hollywood, he also is known for his performances in the city's public service announcements on YouTube: Alice in WeHoLand and The WeHoans. Devine anchors the weeknight newscast at 10 p.m. on Fox 11 News. She has 16 Emmy Awards, including the Governors Award from the Academy of Television Arts and Sciences. Assisting them were comedians Fortune Feimster ("Chelsea Lately" and "The Mindy Project") and Drew Droege ("The Groundlings" and "Upright Citizens Brigade").
Here and on the pages that follow are a random selection of pictures of what you missed last night, most courtesy of the City of West Hollywood and shot by Jon Viscott.  But don't worry if you missed it, Halloween will return!