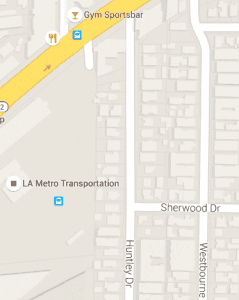 Update: The West Hollywood Sheriff's Station said this afternoon that there are three suspects being sought in the stabbing incident. Two people were wounded.

West Hollywood Sheriff's deputies were investigating a stabbing incident on Santa Monica Boulevard at about 1:40 a.m. today, the only serious crime reported during the city's annual Halloween Carnaval. One person had been brought to the Sheriff's Station for questioning in the matter according the station's watch commander. WEHOville readers on the scene said the incident appeared to involve both a man and woman, but that could not be confirmed.
According to one reader who alerted WEHOville to the incident, it occurred near the intersection of Santa Monica and Huntley Drive. The watch commander was unable to confirm the location or the number of people involved because the incident was still under investigation.
The Carnaval officially lasted from 6 to 11 p.m., but people were expected to remain in the streets until at least 3 a.m., said Sheriff's Sgt. Enrique Mandujan.
There were a few medical calls including people fainting or having too much to drink.
Major road closures through 6 a.m. Sunday included Santa Monica Boulevard between Doheney Drive and Croft Avenue/Holloway Drive and San Vicente Boulevard between Santa Monica Boulevard and Melrose Avenue.
Carnaval is the city's largest event and is said to the largest Halloween festival in the world, with an estimated half-million attendees. This year Carnaval paid tribute to the 40th anniversary of the cult classic movie "The Rocky Horror Picture Show."