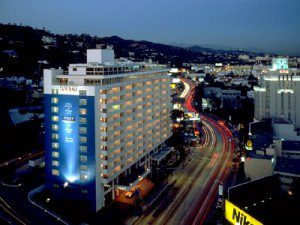 West Hollywood hotels are responsible for the largest share of the city's annual revenue. Fans of the city's nightlife and restaurants are said to triple its population on weekends, a major reason why more than 200 restaurants are located in this 1.89 square mile city. WeHo increasingly is seen as the center for design and style. And these days people are beginning to describe parts of Beverly Hills as "WeHo-centric" rather than the other way around.
So what's the future for the tourism industry that is so important to West Hollywood in terms of money and employment? What are the tourism trends that local businesses should keep an eye on? What will be the impact of all the new hotels that will turn Sunset Strip in "hotel row"? How does West Hollywood need to adapt and evolve to keep its seat in the front row of California tourism?
Those are the topics under discussion on Nov. 12 at Visit West Hollywood's inaugural "Tourism Summit." The event will feature as speakers City Councilmember Lauren Meister; City Manager Paul Areval; Caroline Beteta, present and CEO of Visit California; Scott Beck, president and CEO of Visit Salt Lake, and Lin Schatz, chair of Visit West Hollywood's board of directors and general manager of the Andaz hotel.
The event begins at 8 a.m. with time for networking and registration and a continental breakfast. The discussions and presentations will take place from 9 to 11:30 a.m. and will include time for questions from the audience.
The event will take place at the London West Hollywood, 1020 N. San Vicente Blvd. south of Sunset. Those who want to attend (there is no fee) are advised to register online. http://www.visitwesthollywood.com/tourism-summit/register