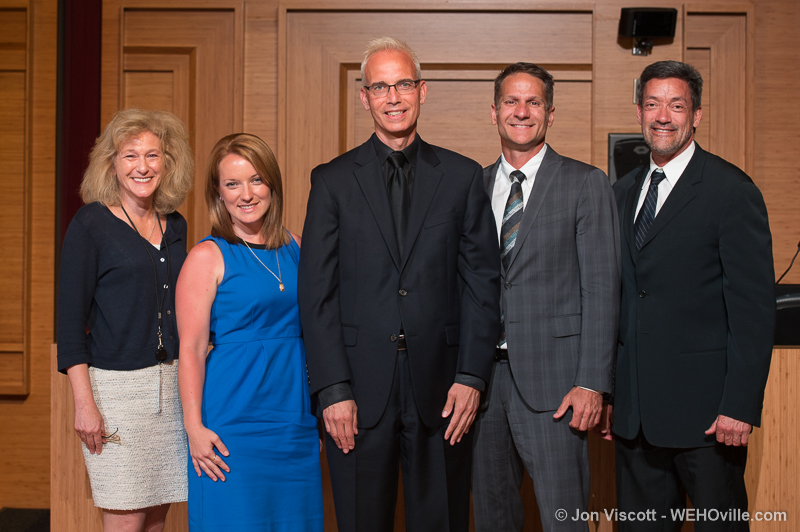 The West Hollywood City Council voted last night to increase its compensation by 50 percent, making its members the most highly paid among those of adjacent small cities. The decision came in a four-to-one vote, with Mayor Lindsey Horvath abstaining, a move that Councilmember John D'Amico, in an angry outburst, called "chicken shit." D'Amico later apologized for that remark.
The decision will boost the part-time council members' monthly compensation from $825 to $1,237. When the $250 monthly stipend for telephone, travel and office expenses is added in, the annual pay for the part-time job is $17,844 a year.
That works out to annual compensation per resident of 47 cents. Council members in adjacent Beverly Hills, which has roughly the same population as West Hollywood, are paid 27 cents per resident. Council members in Santa Monica are paid 15 cents and those in Glendale are paid nine cents.
When combined with the city's generous health benefits and pension plan, Councilmember D'Amico will make $36,433 for the part-time job. Horvath will make $30,242 and Lauren Meister will make $28,287. Councilmember John Duran, who is up for re-election in 2017, will receive $33,823 in pay and benefits if he is re-elected. Councilmember John Heilman, also up for re-election, will receive $29,242.
The raise, which will take effect after the March 2017 election, will be the Council's first in 10 years. Under state law, city councils in cities organized under state law, as is West Hollywood, may give themselves a five percent annual raise. The last time West Hollywood's City Council had a raise was in 2007.
The Council instructed the city's staff to return with a formal proposal for the pay hike that also would include an increase in compensation for city board members, who currently receive $50 per meeting, with most of them meeting monthly. Councilmember Heilman asked that the formal proposal include a proposal for a review of council member compensation when it also reviews negotiated contracts with the city's various unions.
While the pay raise was supported by some residents attending Monday night's council meeting, even its supporters were unhappy that the proposal had been put on the Council's consent agenda. That part of the City Council agenda includes several dozen items that aren't deemed worthy of public discussion or debate and are passed unanimously by the Council in a single vote. Because of publicity about the proposed raise, the Council agreed Monday night to discuss the matter in public and remove it from the consent agenda.
Horvath said she was abstaining from the vote because she wasn't comfortable voting to give herself a raise. She said that she was in basic agreement with the proposal but thought it should have been initiated by the public.
That prompted the angry remark from D'Amico. "That is chicken shit. I'm not doing that," he said, meaning he would not even vote on the item given the position Horvath was taking. Later he apologized. "It was not appropriate of me to use that language," he told Horvath. "But the sentiment that somehow the four of us are making a mistake, I'm not comfortable with that. Horvath replied that she was not suggesting anyone was making a mistake.
D'Amico's attack on Horvath was the second such outburst from him at public council meetings in recent months. During a discussion on Oct. 5 of a proposal to encourage local building owners to upgrade their properties, D'Amico shocked the audience by saying "shame on you" to John Heilman. D'Amico was angry that Heilman hadn't included one of his suggestions in the proposal and he said Heilman wasn't interested in fixing low-cost housing. "That's a shameful thing that you continue to do. And I have zero respect for you in this matter," D'Amico said.