Yes, things got a little lively in West Hollywood this weekend. And unlike in Las Vegas, where what happens there allegedly stays there, when it happens in WeHo the word quickly gets out.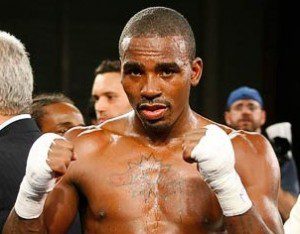 It you were outside of Rage, the gay bar at 8911 Santa Monica Blvd. near San Vicente, on Sunday night, you probably wondered what the camera crews were all about. They were there to chronicle Philadelphia boxer Yusef Mack's coming out of the closet. He did that officially at the "Socialite Sundays" event hosted by Rage by Brandon Anthony,
Actually Mack revealed he was gay last week, after claiming earlier that he was bisexual, after claiming even earlier that he was heterosexual and had appeared in a gay porn film called "Holiday Hump'n" because he had been drugged and didn't know what he was doing.
"I'm gay. I'm tired of holding it in, it is what it is," Mack told Fox 29 last week. "I live my life. I'm gay."
Mack, 35, is the father of 10 children, one of whom suggested he kills himself after his revelation. Mack says his (former) fiance and the other kids have been supportive.
On Friday the craziness was a bit more artsy. According to artnet News, the artist Retna (a.k.a Marquis Lewis) staged a little tirade at the Soze Gallery at 935 N. Fairfax Ave. south of Romaine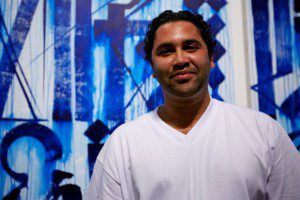 Retna is a world-famous artist but perhaps is best known in West Hollywood for his massive mural on the north side of the five-story parking structure near the West Hollywood Library.
Retna was attending the opening of Soze's "Soze X Modernica," where his work wasn't on exhibit. Someone at the exhibit, who declined to give artnet News her name for fear of retaliation, said Retna smashed three ceramic scupltures. Jessica Lanthier, who also was present, tweeted that she also saw Retna lose it. "Tonight I witnessed that artist Retna throw a full blown tantrum at an art show," she tweeted. "I mean breaking things, slapping other men… crazy."
"People are scared of him," another source told artnet News. "It is well-known that he carries guns. It was odd that there were very few tweets about the incident, and they were cryptic for the most part."
artnet News says Retna has a history of such behavior. "In 2013, he allegedly harassed employees in a Los Angeles art gallery, destroying paintings using a knife and broken bottles," it said. "In 2012, he was charged with three counts of battery after a violent altercation in a different Los Angeles art space in which he hit two gallery employees in the head and broke a pencil in the ear of one of the employees."