Of course you'll have a drink in one hand while you're at The Abbey, West Hollywood's best known gay bar and restaurant. But you probably should have your cell phone in your other hand. Not to text or to see what nearby patrons are on Grindr or Scruff, but to make sure none of your fellow bar patrons steals your phone.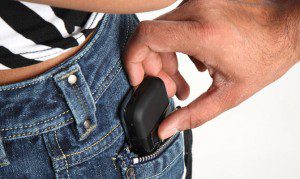 At least 159 patrons of The Abbey have reported their cell phones lost or stolen since the beginning of this year, a number that Lt. David Smith of the West Hollywood Sheriff's Station described as very high. Ben Coleman, a member of West Hollywood's Public Safety Commission, told his fellow commissioners on Monday that those actually reported to the Sheriff's Station were likely a small percentage of the actual thefts.
Coleman told his fellow commissioners that he had reached out to The Abbey's management suggesting it alert customers by giving them a warning flyer when they present their ID cards for admission or including a "pick pocket" warning on the bar's napkins, much as it does with "don't drink and drive" napkins during the holidays. Coleman said they declined to do that.
Smith told WEHOville that such measures might not be very effective given that some of The Abbey's customers may have been drinking elsewhere when they come to the bar and would not be especially attentive. Smith suggested a broader public information campaign that would reach people before they head to area bars for a night out. Smith said he would be meeting with The Abbey's managers to discuss the situation. The Abbey's managers did not return calls from WEHOville seeking comment on what they are doing to address the thefts.