The West Hollywood City Council will show its support for France and the victims of last week's attack in Paris by ISIS terrorists by displaying a symbol of that support at its meeting tonight.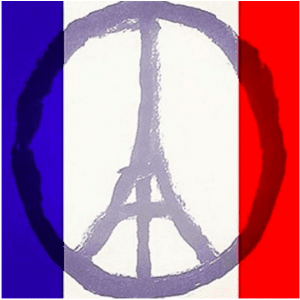 Ty Geltmaker, a WeHo resident, proposed the Council display the symbol on the screen behind the Council dais at the beginning of its meeting at the City Council Chambers. Geltmaker said he reached out directly to Councilmember Lauren Meister, who offered her support. Geltmaker also hopes the city will project the image at night on the outside of City Hall and on the outside of the West Hollywood Library.
"It would send such a strong message of solidarité with our centuries-long friends of liberté, egalité, fraternité, as well as to all immigrant communities around the world," Geltmaker said. "A projection on the screen above the dais would send a powerful statement — locally, nationally and to our friends in Europe and the Middle East — especially to those refugees liable to be unfairly scapegoated. "
Geltmaker said he has made a hundred or more small, "playing-card" size images of the Paris tragedy symbol that will be available on tables at the entrance to the Council Chambers.
The attacks in Paris on Friday night, the deadliest since World War II, have claimed the lives of 129 people to date. More than 400 others have been hospitalized. The Islamic State of Iraq and the Levant (ISIL), also known as ISIS and Daesh, claimed responsibility for the attacks, saying they were in reprisal for France's involvement in the Syrian and Iraqi civil wars.
The City Council meeting is at 6:30 p.m. today at 625 N. San Vicente Blvd., south of Santa Monica.