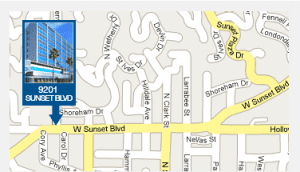 The medical office building at 9201 Sunset Blvd. east of Doheny was evacuated this morning after a bomb threat.
The watch sergeant at the West Hollywood Sheriff's Station said the L.A. Police Department, which received the call, relayed it to the Sheriff's station, which investigated.
No bomb was found. However the owner of the building, Mani Brothers Real Estate, had it evacuated as a precaution. As of this writing it is unclear when the building's tenants, which for the most part are medical practices, will be allowed to return.
The threat comes on the heels of a closing of Sunset Boulevard and the evacuation of a shopping plaza yesterday while sheriff's deputies inspected an abandoned knapsack. This occurred at the shopping plaza on the southwest corner of Sunset and Crescent Height Boulevard that is home to Crunch fitness, Trader Joe's and CB2, the furniture store. The plaza was reopened after an inspection showed no dangerous items in the bag. Given the terrorist attacks in Paris last Friday, which to date have claimed 129 lives, law enforcement has become especially cautious about such matters.