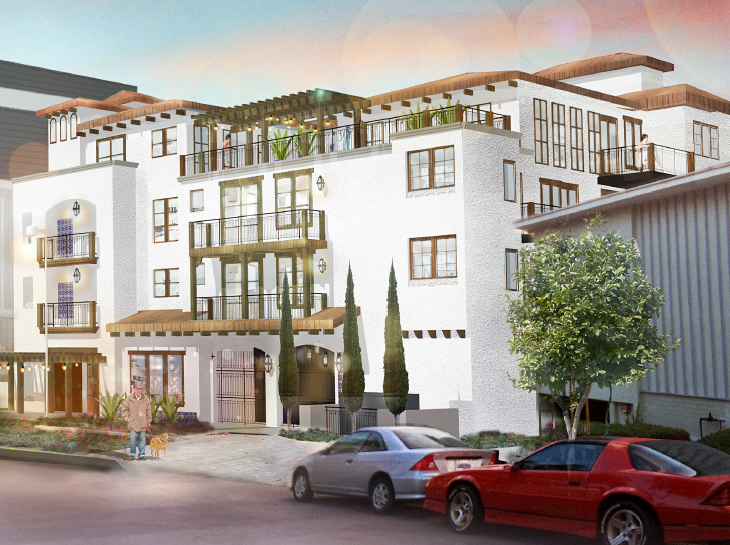 The West Hollywood Planning Commission last night unanimously endorsed a plan to replace an eight-unit, 1920s-era building on Detroit Street with 22 units of affordable housing.
The commission's decision apparently brings to an end a months long controversy over plans to tear down the existing Detroit Bungalows and replace them with a building that will be known as Blue Hibiscus.
Opponents of the project, who were especially vocal during the March and June City Council elections, have the right to appeal the decision within 10 days to the council. However the fact that no one spoke against it at last night's Planning Commission hearing, and that several former opponents said they now support the project, suggests that that is unlikely.
Blue Hibiscus is a project of the West Hollywood Community Housing Corp (WHCHC), a non-profit organization that has developed 16 affordable housing projects, with 14 of those in West Hollywood. WHCHC needed the Planning Commission's endorsement to obtain a demolition permit from the city and unite the two adjacent lots on which it plans to build Blue Hibiscus. One of those lots contains a single-family house and two apartment units.
Opposition to the project has been led by Dr. Pamela Love, a resident of the Detroit Bungalows. Love has said that the elderly and disabled residents of the bungalows shouldn't be forced to move for construction of a new building. Love also has engaged in a complicated debate with WHCHC over a number of issues, including its refusal to support her application for a federal rent subsidy. Supporting such a subsidy now would complicate WHCHC's efforts to empty the bungalows so that it can begin construction. Love did not speak at last night's hearing.
A WHCHC representative told the Planning Commission last night that it will send formal notices to vacate to the Detroit Bungalow tenants within the next 30 days or so. Residents will have 120 days to move, and WHCHC has promised to help them find a new temporary home and has pledged to pay each of them $17,000 to help subsidize their rent. Construction is expected to begin early in 2017.
Three outspoken former opponents of the project, Cathy Blaivas, Stephanie Harker and Michael Wojtkielewicz, have now said they support it because WHCHC has guaranteed that the Detroit Bungalow residents can become residents of Blue Hibiscus. Sheila Lightfoot, a planning commissioner, asked WHCHC to make clearer to Detroit Bungalow residents what steps they must take to ensure they will be accepted in the new building.