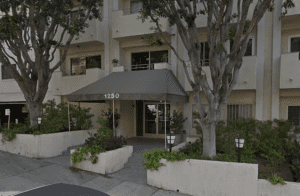 UPDATE: WEHOville learned this afternoon from a reader that another man was accosted by a group of men on Santa Monica Boulevard near Stanley near 1 a.m. on Dec. 6. The three men were African-American, however the watch commander at the West Hollywood Sheriff's Station said she couldn't tell whether that incident and the one described below were related.

A man was knocked to the ground early this morning and his cell phone was stolen by two men, one armed with gun.
Sgt. Dave Valentine of the West Hollywood Sheriff's Station confirmed the robbery and said that the victim, who has not been identified, was taken to Cedars-Sinai Medical Center. Valentine said the victim identified his assailants as African-American men.
The robbery occurred at 1250 N. Kings Rd., just south of Fountain Avenue. It was the latest in a series of robberies or attempted robberies in residential areas in recent weeks. On Nov. 24 a group of three men, one carrying a handgun, approached a man walking his dog in the 7600 block of Hampton Ave. but did not steal anything. On Nov. 22 five men approached a man walking down the sidewalk on De Longpre Avenue near Flores and accosted him and stole his mobile phone. On Nov. 15 a man walking on Romaine Street near Gardner encountered six men, one of whom stole his cell phone.
A 2014 report by the Los Angeles County Sheriff's Department shows that West Hollywood has the highest rate of "Part 1" crimes of any of the 23 areas it serves. Part 1 crimes include crimes against people and property such as arson (no reported incidents in West Hollywood in 2014), homicide (one incident), rape (seven incidents), car theft (87 incidents), robbery (theft that involves force; 96 incidents), burglary (breaking or entering; 220 incidents) and larceny (theft that doesn't involve force, such as stealing a bicycle or shoplifting: 1,191 incidents). A report on October Part 1 crimes from the West Hollywood Sheriff's Station showed the serious crime rate was flat compared to the same month the year before. However the number of petty thefts, defined as theft of property worth $950 or less, was up 47%.