Holly Woodlawn, a transgender actress who starred in 1970s underground films, died today. Woodlawn was a resident of West Hollywood and died from complications of cancer. She was 69.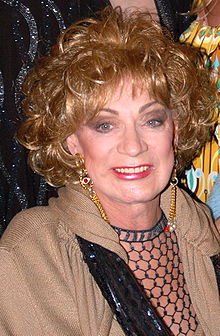 Woodlawn was perhaps best known for her role in "Trash," a 1970 film written and directed by Paul Morrissey. Produced on a budget of $25,000, the film also starred Joe Dallesandro and Jane Forth. Woodlawn played the lover of Dallesandro's heroin addict character.
Woodlawn quickly became a part of Andy Warhol's Factory. She starred in other films such as "Women in Revolt," a satire on the women's liberation movement, and "Scarecrow in a Garden of Cucumbers," whose director was Robert Kaplan. She also performed in "Broken Goddess," a black-and-white silent film in 1973.
Woodlawn was born in Puerto Rico as Haroldo Santiago Franceschi Rodriguez Danhaki and grew up in Miami Beach. She left Florida at the age of 16 and hitchhiked north to New York City. That trip was the inspiration for some of the lyrics in Lou Reed's "Walk on the Wild Side":
"Holly came from Miami F-L-A,
"Hitchhiked her way across the U.S.A.,
"Plucked her eyebrows on the way,
"Shaved her legs and then he was a she."
Woodlawn's film career ebbed quickly. By the late 1970s she was back in Miami waiting tables. In the 1990s she moved to WeHo. She scored roles in films like "Billy's Hollywood Screen Kiss" (1998) the Amazon television series "Transparent" (2014).
Friends of Woodlawn created an online campaign to pay for her care after she left Cedars-Sinai Medical Center to wait for repairs to her flooded West Hollywood apartment at 838 West Knoll Drive. Gabriel Rotello, a friend of Woodlawn and a writer and filmmaker, posted about her last hours today on his Facebook page:
"I just wanted Holly Woodlawn's friends to know that her passing was very peaceful. I happened to stop by at the final moment and she was surrounded by friends, surrounded by love, and there was a great sense of calm, serenity and acceptance in the room. Just a couple of weeks ago she had been chattering away full of stories and smiles and I left for NY confident she'd be around for a while. But just days later she slipped into unconsciousness, and today she quietly slipped away. So it seemed very merciful, for which we should all thank the goddess."