The West Hollywood City Council has kicked back to the developer a proposed condominium project on Flores Street with a request that the design be altered to better reflect the character of the street.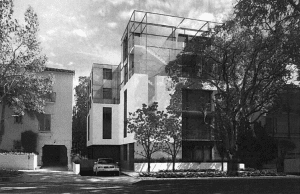 The decision came after two WeHo residents appealed a Planning Commission decision to permit construction of a five-story building with 14 condominiums at 1216 Flores St. Typically a 9,000-square-foot site such as the one at 1216 Flores would only be allowed to accommodate a four-floor, ten-unit building. But the developer, Ground Up Development, owned by Boaz Miodovski, agreed to add five units priced for low- or moderate-income people, allowing the project to qualify for 14 units.
George Credle, who with Ron Emons appealed the decision, raised several arguments against the project. One is that rent stabilized housing on the site will be destroyed to accommodate the project. However the Community Development Department staff noted that the four rent-stabilized units on the property were already demolished in 2013. Another argument is that the proposed building will overshadow the historically designated building at 1224 Flores and that its driveway adjacent to 1224 Flores will have an impact on the adjacent unit in that building. Other objections dealt with what the appellants said would be the negative impact of the building on the historic character of the neighborhood and its impact on parking and traffic.
The city's Community Development Department responded that while the 1216 building will cast a shadow on the south side of 1224 Flores, the building already is in the shadows most of the winter.. The staff report disputed the other claims.
Councilmember John D'Amico objected to a staircase on the front of the building, which he said he found unattractive. He also objected that all of the affordable condo units would be on the same floor, creating what he called a "poor floor" that segregated lower-income people from other residents. D'Amico also said the design didn't take into account the nature of the buildings around it, most build in a Spanish Colonial style and many with courtyards.
Councilmember John Duran also objected to the front-facing stair case. And Duran said he would prefer the building be only four stories, even if that meant eliminating the five affordable condo units.
The council's final decision was to ask the developer to take another look at the design and consider the design of the neighboring buildings, the project's closeness to the building next door, the possibility of removing balconies that add to the building's mass and reducing the size of the units.