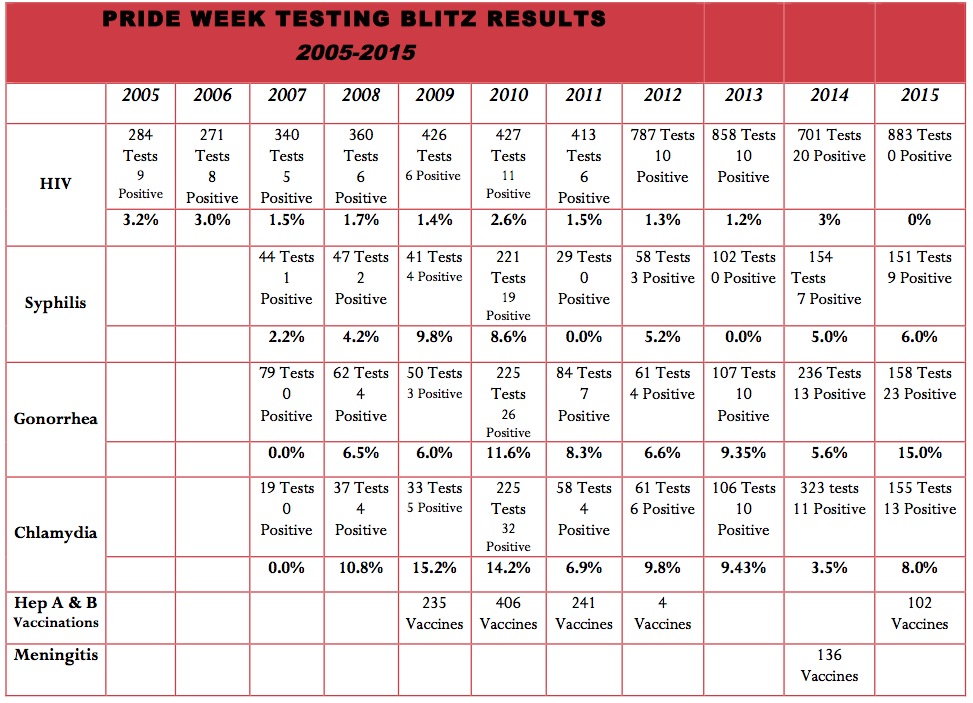 EDITOR'S NOTE:  The City of West Hollywood yesterday issued a statement saying that there was an error in data previously released regarding HIV/STD testing results that were collected during the city's annual Pride testing blitz in June. The data originally released showed that there were zero HIV-positive results out of a total of 883 tests conducted — the first time the City has seen "zero" in its testing results. The corrected data indicates that there were, in fact, 10 HIV-positive results in 883 tests. This represents a positivity rate of 1.1 percent. While the number is not zero, this positivity rate is the lowest rate measured since the annual Pride testing blitz began in 2005. "It demonstrates important and encouraging progress in the fight against HIV," said a city spokesperson
In what could be seen as a sign of hope that efforts to curb the spread of HIV are working, the annual STD testing blitz during Gay Pride week in West Hollywood this year turned up zero positive results.
"It's great news," said City Councilmember John Duran. "I think with PrEP I feel like we're getting the upper hand on this." PrEP is an acronym for "pre-exposure prophylaxis," a drug regimen that reduces to nearly zero the chance that an HIV negative person will become infected with HIV.
"We hope it's not a one-off but the start of a trend," said Councilmember John D'Amico who, like Duran, is openly HIV positive. "We don't have all the information about who was tested and why. But it's a very large sample …. We know that something is different."
The zero result among the 883 tests done in June was a major contrast to 2014, when 20 of 701 men tested turned out to be positive. That was equal to 3% of those tested.
While the tests found no one with HIV this June, they did find more people infected with other sexually transmitted diseases such as syphilis (9 of 151 tested), gonorrhea (23 of 158 tested) and chlamydia (13 of 155 tested). The biggest percentage increase was in cases of gonorrhea, with 15% of those tested this year identified as positive compared to 5.6% last year.
The tests were conducted by the L.A. LGBT Center, the Saban Community Clinic, AIDS Healthcare Foundation and the L.A. County Department of Public Health. While the results may indicate a trend, they weren't part of a rigorous scientific study and can't be interpreted as definitive.
Jim Key of the L.A. LGBT Center cautioned that people should not read too much into the data. He noted that the percentage of people who tested positive for HIV at the SPOT, the Center's former STD testing location in West Hollywood, was 1%, and that it has remained at that level since the Center opened its new testing center, Center-WeHo, on Oct. 20.  Key said the Center is testing 20 to 25 more people a day than it had at the SPOT. And it has helped twice as many people adopt PrEP as it had previously, with a total of 150 to date there and at its main clinic in Hollywood.
The increase in STDs, which Duran described as "sad news," is thought by some to be a result of the growing popularity of PrEP. While doctors urge patients to continue to use condoms while on the PrEP regimen, some men prefer to engage in unprotected sex without the risk of HIV, reasoning that STDs are not fatal.