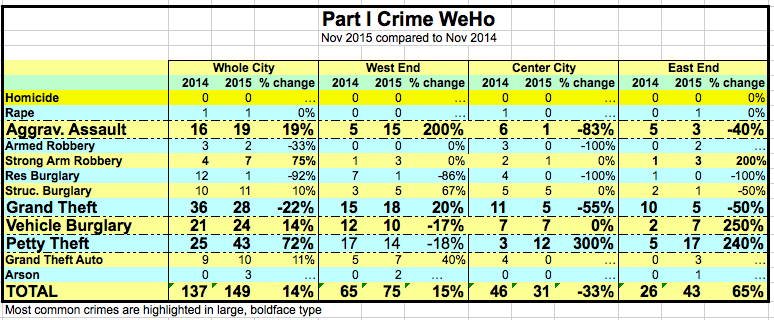 West Hollywood saw a major surge in petty theft in November according to figures compiled by the West Hollywood Sheriff's Station. The figures show there were 43 incidents last month compared to 25 in November 2014, an increase of 72%. The station reported 47 petty theft incidents in October, a 27% increase over the 37 in October 2014. Petty theft is defined as theft of something worth $950 or less.
Petty theft incidents were relatively evenly divided among the city's Westside (14 incidents), Center City (12 incidents) and Eastside (17 incidents). However the Eastside and Center City areas showed the greatest increase in such incidents. Incidents of grand theft, the taking of property worth more than $950, declined 22%, from 36 incidents a year ago to 28 this past November.
Other categories responsible for a major portion of serious crimes included vehicle burglaries (24 in November 2015 vs. 21 in November 2014) and aggravated assault (19 vs. 16).
The city's Eastside saw the biggest increase in all serious crimes, with 43 last month compared to 26 in November 2014. That increase is likely to prompt Eastside residents to continue their push for more action to address what some see as an increase in homeless or transient people on the streets. Residents have reported seeing homeless people attempting to break into garages and other buildings to find a place to sleep and some believe they are responsible for many of the vehicle burglaries.
There also has been a spate of armed robberies across the city in recent weeks, with several taking place on the Eastside and involving African-American men who steal cellphones.
Acting Capt. Sergio Aloma of the West Hollywood Sheriff's Station has told the City Council that he is stepping up patrols on the Eastside and asking that deputies, who for the most part patrol in cars, drive down residential as well as commercial streets. The Sheriff's Station also recently added a foot patrol two nights a week.
The crime report will be presented to the city's Public Safety Commission at its meeting Monday at 5 p.m. at the West Hollywood Sheriff's Station, 780 N. San Vicente Blvd., south of Santa Monica. Parking is available across the street in the five-story parking structure adjacent to West Hollywood Library.