Beginning next year Steven Reigns, West Hollywood's city poet, will facilitate discussions at the Lambda Lit Book Club, "the queerest book club in LA."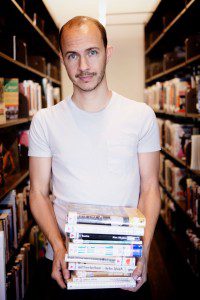 Reigns will fill a position occupied since 2012 by Tony Valenzuela, Lamba's executive director. Valenzuela said he was stepping aside because of the growing demands of Lambda. "For three years I've had the privilege of leading dynamic conversations about some of our community's greatest books with a smart and generous core group of attendees," Valenzuela said. "I'll miss it but am thrilled to have Steven Reigns, whom I've long admired, take over and bring a new energy to the club."
Reigns said he was happy to act as facilitator. "I've spent so much of my career as a poet connecting people with the pleasure of writing. I'm excited to spend time discussing the gratification of reading good writing."
Reigns is the author of "Inheritance" and "3-Pack Jack." He has taught writing workshops around the country to LGBTQ young people and people living with HIV. For the past 10 years, he has led the "My Life is Poetry" workshop, an autobiographical poetry workshop for LGBT seniors, and edited an anthology of their work by the same name. In addition to being a poet, Reigns is a therapist specializing in group therapy.
The Lambda Lit Book Club, co sponsored by the West Hollywood Library, has been in existence since 2012. Its members meet to discuss an eclectic mix of LGBTQ literature including classics, unheralded gems and buzz-worthy new releases.
The book chosen by Reigns to start off the new year of the book club is Justin Torres' "We The Animals." The book has been translated into 15 languages and is currently being adapted into a feature film.
"In such a slim volume Torres conveys so much complexity about difference and differentiating," Reigns said. "It's a beautifully crafted, layered book and perfect for discussion in a book club."
That book club session will be held on Jan. 26 at 7 p.m. in the community room of the West Hollywood Library, 625 N. San Vicente Blvd., south of Santa Monica. Book club selections are available to check out at the library. More information about Lambda can be found online.