Three adults and two young people who may have been involved in armed street robberies in West Hollywood and others in the West Los Angeles, Wilshire and Hollywood areas have been arrested.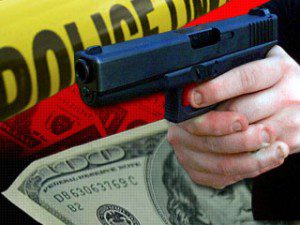 The arrests were announced in an email to City Council members today from acting Capt. Sergio Aloma. "Recently the West Hollywood community saw an uptick in street robberies," Aloma said. "I am happy to inform you that through the hard work and tenacity of our detectives, our collaboration with our neighboring law enforcement partners, 3 male adults and 2 juveniles were arrested last week in connection with a series of armed street robberies in the West L.A., Wilshire and Hollywood areas. Those arrested are suspected in 7 street robberies in West Hollywood dating back to November 9, 2015."
The five alleged robbers were arrested by the Inglewood Police Department late Wednesday night or early Thursday morning. While Aloma connected them with the West Hollywood robberies in his message to council members, Sgt. Dave Bowman of the station's detective bureau says that connection isn't yet certain. Bowman said the detective handling the West Hollywood robberies is still trying to determine if those arrested were involved.
The West Hollywood robberies date back to Nov. 9. Most of them have occurred at night or in the early hours of the morning on residential streets such as DeLongpre Avenue, Kings Road, Flores Street and Romaine Street. Most of the incidents involved the theft of a cell phone. And in several of them the victim identified the robbers as a group of African-American men.