Amazon sees them as a future way to quickly deliver products to its customers with no traffic delays. In Japan they have been used for years to deliver pesticides and fertilizer to steep hillside fields. And the Orangutan Conservancy uses them to track those endangered animals in Sumatra and Borneo.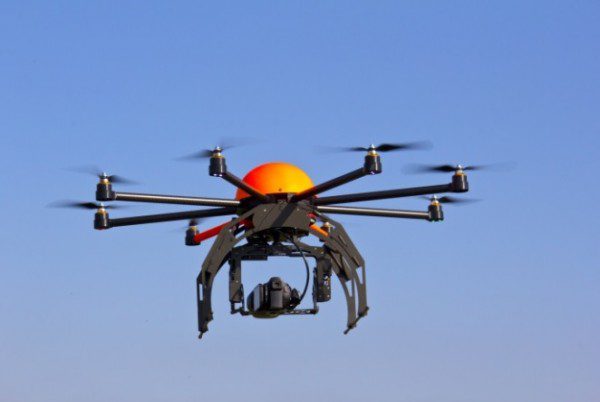 But in West Hollywood the drone is best known for a crash into a power line on Sunset Boulevard at Larrabee Street in October that left hundreds of residents without electricity. Then there's the drone that a local resident, speaking before the City Council, said he feared took too close at look at him while he relaxed on his apartment balcony less than fully dressed. And there's the one that surprised residents of the French Hill Apartments on Olive Street when it landed in their pool.
The West Hollywood City Council will be asked on Monday to join the federal and state governments in enacting measures to regulate so-called "unmanned aircraft systems." The measure, brought forward by City Councilmember Lauren Meister, would:
Require registration and a permit for operation of any unmanned aircraft in the City (a major problem, Meister notes, is the difficulty in finding the owner of a drone that has caused a problem)
Prohibit unmanned aircraft (hobby/recreational and commercial) from interfering with manned aircraft, operating at night, operating within 25 feet of persons not involved in operation, operating inconsistent with state or federal flight rules, capturing visual images or audio recordings of persons without consent when a reasonable expectation of privacy exists, flying 350 feet or less above a public or private school during school hours without permission, capturing visual images of public or private school grounds during school hours without permission, flying within the airspace above City parks, City Hall and sheriff and fire stations, and interfering with firefighting, police, or emergency response activity;
Prohibit unmanned hobby/recreational model aircraft from operation beyond the operator's visual line of sight or higher than 400 feet above ground, as FAA rules do not apply such limitations to commercial UAS operations;
Provide exemptions for government-operated UAS and hobby/recreational or commercial unmanned aircraft that have received permission from the FAA to operate beyond the limitations of the ordinance; and
Make violation of the ordinance a misdemeanor.
The Federal Aviation Administration is expected next year to begin imposing requirements authorized under a federal law adopted in xxxx that would set a maximum speed of 100 mph and a maximum altitude of 500 feet on drones. In addition, the proposed FAA rules would allow drone flights only during the day time, bar them from flying over people not involved with them and require testing and a Transportation Security Administration screening of drone operators, who would have to be at least 17.
In her proposal to the Council, Meister notes that certain issues aren't addressed by state and federal law. They include invasion of privacy (which is addressed by state law only in incidents over privately owned land). Also, her proposal would require drones to be identified with a unique registration number to identify the drone operators.
The item is on the consent agenda for the Council's meeting on Monday, which means it will be passed without discussion unless a council member asks that it be removed for discussion. The Council will meet at 6:30 p.m. at 625 N. San Vicente Blvd., south of Santa Monica.