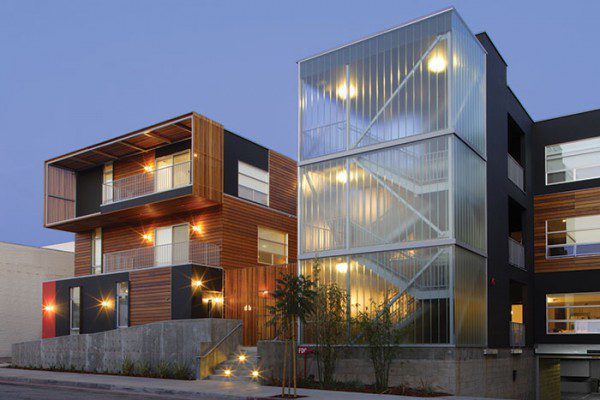 You don't need to look far to see the imprint of architect Lorcan O'Herlihy on West Hollywood. His L.A.-based firm, Lorcan O'Herlihy Architects (LOHA), is one of the most prolific designers of contemporary architecture in the city—from award-winning residential projects on Formosa Avenue and Gardner Street to flashy new billboards on Sunset Boulevard. With an emphasis on design that draws both the eye and activity, LOHA's work is helping to bring about a new form of urbanity in the city's quiet neighborhoods and bustling corridors.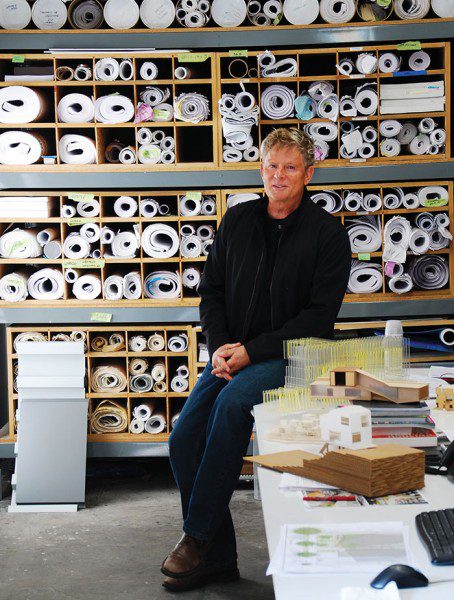 And there's more on the way. LOHA recently received approval for a 30-unit condominium project on Kings Road close to Santa Monica Boulevard. And in the heart of the Sunset Strip at the corner of Sunset and La Cienega, LOHA is designing a large residential, retail and hotel complex in conjunction with the global architecture firm SOM. Across Sunset, his bright blue billboard structure—built through a partnership with the City of West Hollywood and ACE Advertising—is adding a new flavor to the billboard showcase along the Strip. These are just the latest in a string of projects that have permeated the city with O'Herlihy's unique brand of modern architecture.
O'Herlihy's connection with West Hollywood dates back to the early 2000's. With a slate of successful residential projects that had already been completed throughout L.A., O'Herlihy was commissioned by developer Habitat Group LA to translate his single-family modern architecture into a multi-family project for West Hollywood. The result is Gardner 1050, a 10-unit residential courtyard project that fronts the street with an eye-catching jewelry box staircase and amber-toned wood paneling. The project quickly sold out.
That led to more projects with Habitat Group LA, including the then-controversial Habitat 825, built in 2008. Because of its location right next door to the historic Rudolph Schindler House on Kings Road, many were nervous about how a new building might detract from the quality of the mid-century modernist landmark. But LOHA and Habitat Group LA proved many naysayers wrong with a bold yet elegant courtyard-style housing design that makes a statement without compromising the Schindler next door.
"Making a pretty building is certainly part of it," says Richard Loring, the developer behind the now-defunct Habitat Group LA. "He also does it in a way that people who might not know anything about architecture can appreciate."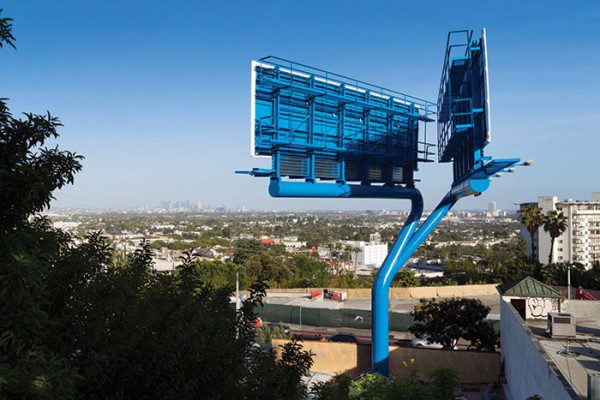 O'Herlihy says a lot of that appeal comes down to how his projects fit into their surroundings.
"Our work makes the edges of our properties much more welcoming and porous, so there isn't this edge between private and public, but that it's blurred," O'Herlihy says. "The idea is that architecture can extend beyond its boundaries."
Before starting his firm at the early age of 28, O'Herlihy worked for the Pritzker Prize-winning architect I.M. Pei on the pyramid at the Louvre Museum in Paris, and for the renowned architect Steven Holl, whom O'Herlihy cites as a major influence. Educated at the Architectural Association in London, O'Herlihy holds a Master's degree in History and Critical Thinking and has always been interested in the overlap between architecture and social strategies. His dissertation—"Towards New Models of Social Connectivity"—continues to influence his designs.
That comes across clearly in his project Formosa 1140, an 11-unit residential project completed in 2009 that uses almost half of its footprint to create a mid-block public pocket park. He calls this approach "amplified urbanism"; using the architecture project as a way to affect the city around it.
"It's about collaborating with the city, clients, neighbors, everyone, so that the projects you do resonate beyond just the idea of it being a building," O'Herlihy says. "I think that's perhaps why we've continued to have great success in West Hollywood, because the work is driven by an idea that architecture should be engaging and address the sidewalk and streets where they are. So it became much more about a pedestrian spatial quality."
And this approach has been widely praised. Formosa 1140 has received multiple local and national architecture awards, as have more recent projects in Hollywood, Westwood and the Miracle Mile.
"Arguably Lorcan is doing some of the most innovative residential work here in the city today, both single and multi-family," says architectural curator Danielle Rago, who included LOHA's work in "Shelter," an exhibition on the future of housing in Los Angeles shown recently at the Architecture and Design Museum in Downtown L.A.'s Arts District. "We were asking these architects to look at new challenges the city's facing, like population saturation, stratospheric costs, congestion, environmental crises, and really looking for innovative solutions," Rago says. "And Lorcan, in a lot of his work, addresses these concerns while still maintaining a strong connection to nature."
And O'Herlihy plans to stay involved in West Hollywood with his current projects and perhaps more to come. But he does concede that with the city's progressive design sensibility and active community members, it's not always easy to push the architectural limits. Some residents filed an appeal on the planning commission's approval of LOHA's project on Kings Road, but that appeal was recently denied.
"It can be a messy, unique process. You just have to engage everybody," he says. "If your project is strong, it will move forward. If the project's weak, it won't."
This article was originally published in the Winter 2015 issue of our sister publication, West Hollywood Magazine. To see more, go to WestHollywoodMag.net.