Davey Wavey has left WeHo. The gay YouTube sensation recently announced (on YouTube, of course) that he has moved back to Rhode Island to be closer to his family. (See the video above).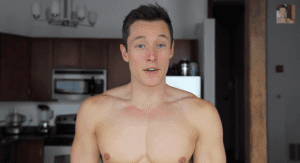 Wavey is a personal trainer and a columnist for GayTravel.com. He has created more than 800 videos, with provocative titles such as "What Gay Guys Think About Vaginas" and "Coming Out to Siri," hinting at his irreverent humor. And while he says he's not a fan of clothes, he has created his own t-shirt line.
Wavey became famous after his video, "I Caught My Hot Neighbor Masturbating! (with sound)," went viral, reaching over 2 million views. Wavey continued to create hilarious videos geared towards a gay audience, all of them featuring his shirtless bod.
After graduating from college Wavey has moved to moved from Rhode Island to New York City, to Washington, D.C. to Buenos Aires and to Toronto before settling in West Hollywood a few years ago.  He quickly became engaged with WeHo, describing his favorite Saturday in West Hollywood in a story on WEHOville.
According to Variety, Wavey recently sold his West Hollywood condo for $380,000, a nice return on his investment of $260,000 in January 2014. Variety reports that Wavey (whose real first name is Jonathan) owns a one-bedroom loft-style condominium in downtown Woonsocket, just outside of Providence, that he picked up in late 2007 for $163,280.