In a provocative story in May about the move of creatives from New York to Los Angeles, The New York Times said the wagon train mentality is taking hold among the L train set, who seem today to find relevant Horace Greeley's 1865 admonition to "go West!"
Adrian De Berardinis is one of the many New Yorkers who recently made that move, arriving in West Hollywood in January after working in New York City as a successful hair stylist and salon owner whose work was celebrated in fashion magazines and websites.
De Berardinis not only has transitioned from East to West, he also has moved into another intimately creative field — cooking — in the sort of provocative way that it takes to get the attention of celebrity-sated Angelenos.
The first episode of "The Bear-Naked Chef," De Berardinis' web video cooking series, went live on Dec. 22 and already has garnered 240,000 views. Is it the chicken cacciatore (recipe here) or the fact that the muscular, hairy and handsome De Berardinis is cooking in nothing but an apron (oh, and socks)? To De Berardinis it doesn't matter so long as the recipes and his cooking techniques engage his viewers. "I'm using something that people are enticed by and introducing them to my cooking," he said. "If that's what it's going to take to grab them, then please, by all means!"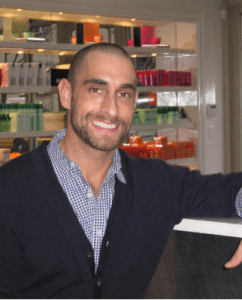 De Berardinis, 39, moved with his family to New York City from his native Toronto 18 years ago. His father, Giancarlo De Berardinis, owned salons in Toronto and Milan and opened his flagship salon in affluent Greenwich, Conn. But Adrian De Berardinis, a gay and cosmopolitan guy, had a urge to venture into New York City. In 2007 he opened the De Berardinis salon on West 21st Street in Chelsea, designing the white lacquered chairs himself. It attracted attention from publications such as Allure and Vogue and Paper.
But while De Berardinis got lots of publicity for his work as a hair stylist, he also has a history in restaurant work, having worked in family-owned restaurants since he was 11 and cooked at home since he was 8. In New York City he worked as a cook at Frank, the Italian restaurant on Second Avenue in the East Village with a hipster following. He has always seen both fields as creative and as ways to connect on a personal level with clients — satisfying their hunger with beauty and with food.
Last year De Berardinis sold his salon and moved to California, part of what he calls an effort to step back and take a deep look at his life. When he arrived here he began doing some catering and working as a personal chef as well as working as a sales clerk at LASC. The idea for "The Bear-Naked Chef" was "marinating in my head for months," De Berardinis said. Then he talked with a filmmaker who he'd met in New York City who was taking a break in Los Angeles. "He said, 'I can do it.' Within 48 hours I had assembled a team. The first episode was filmed in six hours." That team included Brandon Roberts, executive producer; Jen Morton, director of photography; Jerimiah Sith, camera operator; Sara Sandoval, audio, and Randy Lee, camera operator and editor.
De Berardinis said he wasn't nervous during the filming (not to disappoint, but that apron does cover his most private parts). However, when it was over, "I think I had a moment when I was done filming when I thought, 'Holy sh-t, I just finished six hours in a room naked!'"
But there is a logical connection that De Berardinis sees between being naked and cooking. " It's a sensual journey for me: from selecting the perfect and freshest ingredients, to the preparation with attention and care, to the sexy plating of what I've prepared, as you already know, we eat also, with our eyes," he says on his website.
Being naked in a video also has another meaning for De Berardinis. "For me being naked is a metaphor for where I am in my life," he said. Today, as a gay man, he is comfortable with who he is, which wasn't always the case. De Berardinis believes that exposing himself to the world, physically, intellectually, emotionally and sexually, is the best way to accept and enjoy who he is.
So what is next? De Berardinis is contemplating having guests on future episodes (after all, he says, there are only so many times a viewer is going to tune in to see him naked). He's reading the feedback about this first episode on Facebook. "I'm paying attention to what people are saying," he said. And he's pondering a cookbook.
And is there a television show in his future? De Berardinis isn't sure that America's somewhat conservative audiences would embrace the concept of his show. But in Europe, several hundred years ahead of us where civilization is concerned, there may be an opportunity. Keep your eyes open for "Orso-Nudo Capocuoco"!