A man delivering food was shot during a robbery early Tuesday morning on Kings Road in West Hollywood.
The shooting occurred just before 1 a.m. in front of 1025 N. Kings Rd. according to a neighbor who heard the gunfire. Sgt. Shawn Cohen of the West Hollywood Sheriff's Station said there were two suspects and that they were driving a four-door, late-model silver sedan. They have not yet been apprehended
The food deliverer was shot several times, Cohen said, but the injuries were not life threatening. He was taken to the hospital. The robbers stole a credit card processing machine and the victim's cell phone.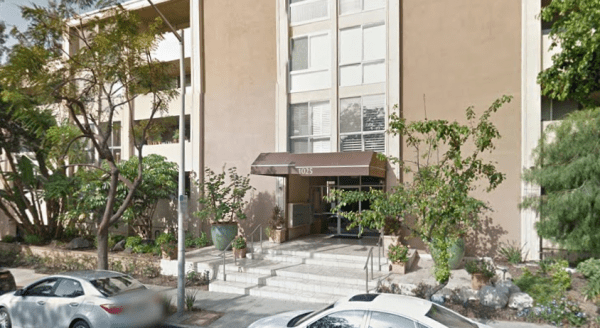 A Kings Road resident who alerted WEHOville to the shooting said it occurred in front of 1025 N. Kings Rd., just south of Santa Monica, near Gelson's grocery store. "The shots woke me up from a dead sleep," he said in an email message. "There were about eight or ten loud pops, in quick succession — four or five and then four or five more."
This morning's incident is the latest in a series of at least seven street robberies taking place mostly in the city's residential areas in November and December. One of those, on Dec. 6, occurred in front of 1250 N. Kings Rd., just south of Fountain Avenue.
The Inglewood police earlier this month arrested three adults and two young men who the West Hollywood Sheriff's Station believes may have been involved in armed street robberies in West Hollywood and others in the West Los Angeles, Wilshire and Hollywood areas.
A 2014 report by the Los Angeles County Sheriff's Department shows that West Hollywood has the highest rate of "Part 1" crimes of any of the 23 areas it serves. Part 1 crimes include crimes against people and property such as arson (no reported incidents in West Hollywood in 2014), homicide (one incident), rape (seven incidents), car theft (87 incidents), robbery (theft that involves force; 96 incidents), burglary (breaking or entering; 220 incidents) and larceny (theft that doesn't involve force, such as stealing a bicycle or shoplifting: 1,191 incidents). A report on serious crimes from the West Hollywood Sheriff's Station showed a 14% increase last month over November 2014. A major reason for the increase was a surge in petty thefts, defined as theft of property worth $950 or less, which were up 47%. There were only nine armed robberies, down from seven in November 2014.
Sergio Aloma, the station's acting captain, told the City Council recently that the station has stepped up car patrols on residential streets and on the city's Eastside, which experienced a 65% increase in serious crime in November over the same month the year before according to a report by the Sheriff's Station.