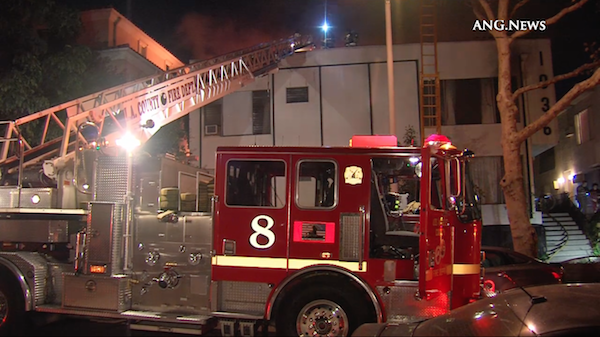 West Hollywood experienced three fires on New Year's Eve.
Just after 11 p.m. the L.A. County firefighters rushed to an apartment building at 1041 N. Hayworth Ave. where two cars were found ablaze in the carport. The fire had started in the cars and spread to the apartment building above. Fire Department arson investigators were on the scene, but it is unclear at this point what caused the fire. No injuries were reported.
Around 9 p.m. a small fire broke out a Barney's Beanery. Patrons of the bar and restaurant were evacuated to the street while firefighters investigated and put out a small fire on the patio.
There also was a fire at an apartment building at 1036 N. Edinburgh Ave. south of Santa Monica. The fire appears to have penetrated the roof. There currently are no reports on its cause and no injuries have been reported.