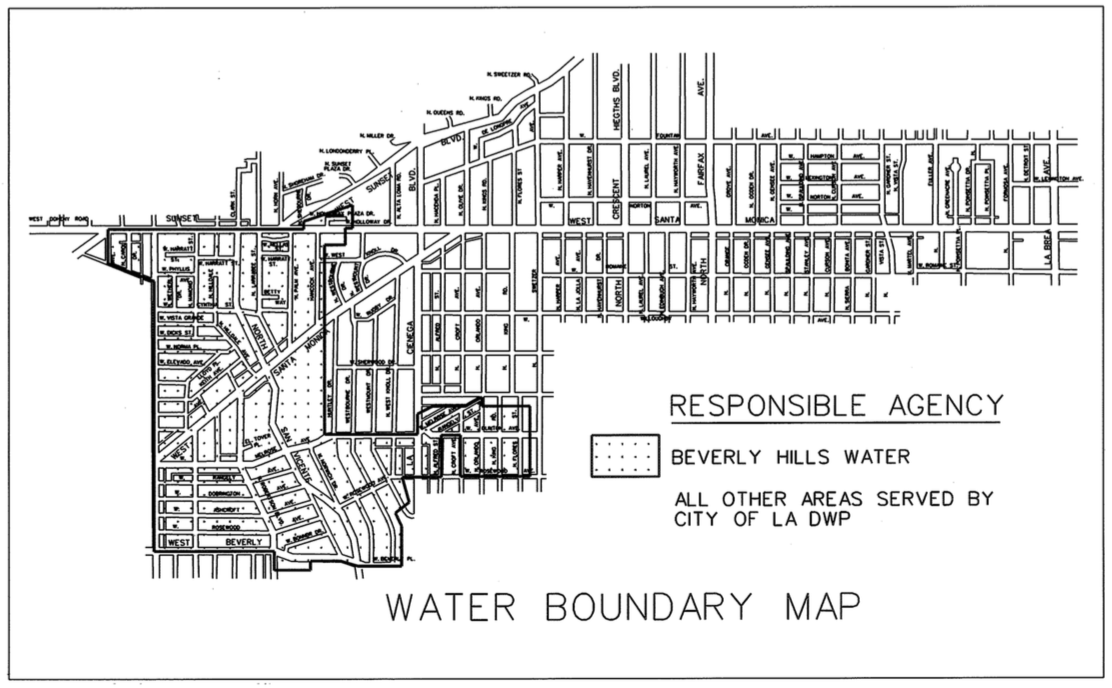 Some residents of West Hollywood are likely to see major increases in their water rates if the Beverly Hills City Council approves a proposed rate increase that will be the subject of a public hearing tomorrow.
The rate increase proposal means an overall rate increase for single-family residential customers in Beverly Hills of about 17.7%. However that would vary according to which of four billing tiers a homeowner is in and how much water he used. Those tiers are determined by the amount of water used over the two-month billing period. Apartment building owners in Beverly Hills would see their rates increase by an overall average of 41.6%. Currently apartment building rates are set according to four tiers of usage. The proposed increase would reduce that to two tiers. Businesses in Beverly Hills would see an overall average increase of 19.7%.
But the proposed increases would have a bigger impact on West Hollywood because the Beverly Hills Drinking Water Enterprise (BHDWE) charges its West Hollywood customers 25% more than those rates. Thus the average 17.7% increase for Beverly Hills homeowners would be 22% in West Hollywood. According to a report to the city council, that higher rate is "in recognition that Beverly Hills has extended service out of the city limits to customers that had not contributed to the City's General Fund which funded the initial construction of the City's water system." Beverly Hills established its own water utility in 1928 when it purchased the Sherman Water Company.
The BHDWE serves an area of West Hollywood whose approximate boundaries are Doheny Drive on the west, Sunset Boulevard on the north, Flores Street on the east and Beverly Boulevard on the south. The rest of West Hollywood is served by the L.A. Department of Water and Power (DWP).
Proposed rate increases have drawn opposition from West Hollywood leaders. In October then-Asst. City Manager Sam Baxter wrote a letter to the Beverly Hills City Council expressing WeHo's objection to the rate increase.
"West Hollywood residents are already paying 8% more than Beverly Hills residents for the use of water," Baxter's letter said. "The proposed additional rate increase imposes an unfair burden on West Hollywood residents.
"The demographics of West Hollywood are unlike those of Beverly Hills. West Hollywood has a denser population with more multi-family dwellings. Comparatively West Hollywood residents do not use water for irrigation or ornamental landscapes but use more water for personal use."
City Councilmember Lauren Meister, a homeowner in WeHo's West Hollywood West neighborhood of single-family homes, also has spoken out against the proposed increase.
The increase is needed, according to Beverly Hills officials, to offset a projected 19.4% reduction in water revenue in the upcoming 2015-2016 fiscal year that is a result of improved conservation and increased operating costs. State law requires Beverly Hills to reduce its water usage by 20% by 2020. This is separate from a short-term target of 32% set last year after Gov. Jerry Brown declared California is suffering from a serious drought. The Beverly Hills system is "revenue neutral," which means that revenues are meant to cover costs and not generate a profit.
The Beverly Hills City Council also will consider an increase in penalties levied on those who exceed water use limits. Those who who reduce their water usage by less than 30% will have to pay 1.44 times their basic water rate. Those who reduce usage by less than 12% will have to pay 2.29 times their basic water rate.
The public hearing is part of a regularly scheduled council meeting that will begin at 7 p.m. at the council chambers at 455 N. Rexford Dr. There will be a second reading of the proposal on Jan. 26. If it is finally approved then the city anticipates it taking effect on Feb. 26.