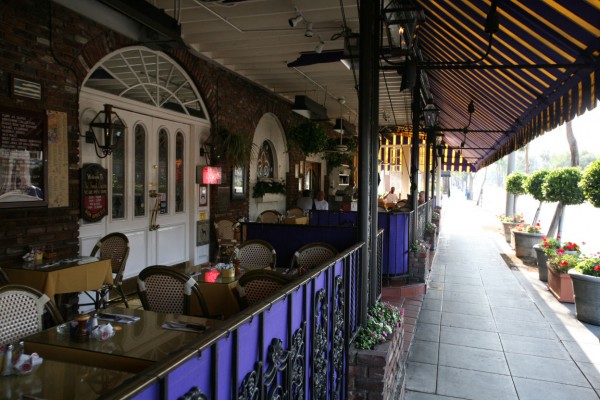 A presentation Wednesday evening by the firm that plans to redevelop the French Market Place at 7985 Santa Monica Blvd. is expected to formally open a public discussion over the West Hollywood fixture's historical and architectural significance. The neighborhood meeting with Faring Capital representatives is scheduled to get underway at 6 p.m. in City Hall's Community Conference Room, 8300 Santa Monica Blvd. at Sweetzer. Here's a quick look at the property's status and  history.
Current Status
The French Market Place is best known for the French Quarter restaurant, the primary tenant that opened for business there in 1973. The restaurant, once a West Hollywood institution, was forced to shut down last summer because of declining business.
Since then, Faring Capital acquired the property and an incubator for small, nonprofit organizations began operating from the building temporarily, providing affordable office space for "socially conscious businesses."
Faring also bought a neighboring property at 7969 Santa Monica Blvd. that most recently hosted the Voyeur and then DBA nightclubs. It proposes to keep the DBA building in place and demolish the French Market building if its plans gain city approval.
The developer wants to construct a new four-story development with three levels of subterranean parking. Faring has said the mixed-use building will include 50,000 square feet of office space, 8,600 sq. ft. of restaurant space, 4,400 sq. ft. devoted for shops and a 3,200 sq. ft. space for a bar or nightclub.
The developer also is seeking to redevelop the site where The Factory is located between Robertson Boulevard and North La Peer Drive in West Hollywood. The firm proposes a mixed-use development at that location also, featuring a 250-room hotel, along with restaurant, bar and office space.
The French Market's Business History
The two-story French Market building was constructed as a grocery store in the 1930s, and possibly a few years earlier. Most public records show the two-story building's construction date as 1936, while others are less specific.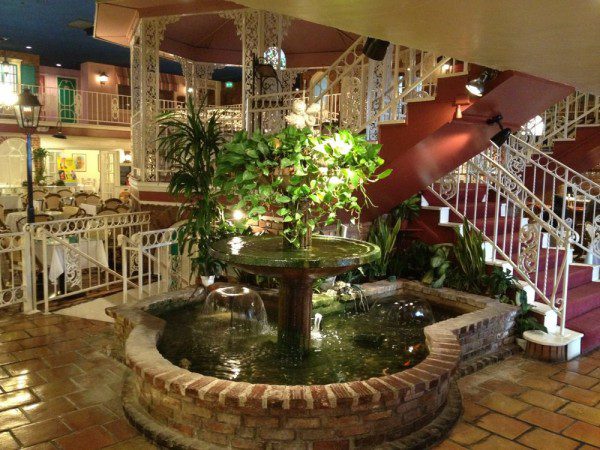 The building was part of three grocery store chains in the ultra-competitive supermarket business over nearly a 40-year period. Initially it was owned by a small, Los Angeles-based chain, Fitzsimmons Stores Inc. The building continued to be used as a grocery store as successive companies took control. Fitzsimmons became Thriftimart, which eventually left the grocery market business and became a chain of drug stores.
At that point, Smart & Final took over Thriftimart's grocery market operations, and the current French Market building became a Smart & Final. Along the way, the building underwent a major renovation in 1956.
In 1973, restaurant maestro Tom Simms bought the building and launched his French Market eatery. Simms' restaurant in turn supplied a steady stream of customers for the small businesses that surrounded it on three sides, such as Dorothy's Surrender gift shop and Baby Jane, a movie memorabilia shop that sold autographed photos, costumes and even "celebrity earthquake ruins."
The French Market was the first of Simms' many restaurants. He bought the Kettle Restaurant in Manhattan Beach in 1975. From there, Simms and his family created a series of successful California chain restaurants that include Mimi's Café, the Lazy Dog Café, the Tin Roof Bistro and Simmzy's.
Architecturally, the building was constructed with an art deco style. Today, a faux-mansard roof hides the original Streamline Modern façade, which can be seen more easily on the east side.
Artistically, the French Quarter restaurant featured original paintings by German-born artist Leo Meiersdorff, a jazz enthusiast who began creating jazz album covers and painted portraits of such musicians as Duke Ellington, Dizzie Gillespie and Paul Desmond. The Simms family discovered his artwork during a trip to New Orleans in 1975 and hired him to create panels for the French Quarter's New Orleans neighborhood-style interior design.
In 2010, the French Market was acquired by Marc Ittah and the Ittah TR Trust. CityData.com lists the property's total value (land and building) at the time of Attah's purchase as being nearly $4.9 million.
The French Market's Community History
This building is famed in gay circles as a gathering place for political and social activists. The restaurant's support for the gay community during the AIDS crisis has not been forgotten by long-time residents. Members of the Municipal Elections Committee of Los Angeles (MECLA), a political action committee in the 1970s, met at the French Market to raise money that supported gay-friendly candidates. It also is where Jerry Brown in 1991 met with gay activists to solicit their support for his candidacy for president.
Veteran LGBTQ journalist Karen Ocamb notes that the French Quarter "was also the jumping off or come-back point for lots of LGBT political events and a refuge for those needing a break from AIDS protests." She further reports that the restaurant was crucial in community support for Rob Roberts' hunger strike on the grassy triangle nearby to urge Gov. Pete Wilson to sign the gay civil rights bill, AB 101.
The restaurant additionally is listed on West Hollywood's website as a noteworthy place in LGBTQ history. Check out the "Stuart Timmons – City of West Hollywood LGBTQ History Mobile Tour" here.
The West Hollywood Preservation Alliance (WHPA) is urging residents to attend Wednesday night's presentation by developers "…before yet another piece of history is demolished: the French Market and DBA are to be developed by the same company that intends to demolish the Factory," the organization states on its Facebook page.
The French Market Place, though, is not yet designated as a historically significant site for the LGBTQ community under a new, Los Angeles-wide initiative that seeks to identify and document such places. Called "Curating the City: LGBTQ Historic Places in L.A.," the initiative has a "microsite" (micro website) hosted on the Los Angeles Conservancy's website, as well as the WHPA's.
Likewise, the Conservancy doesn't include the French Market on its watch lists of threatened sites with important histories, according to its website.
It's not clear yet if or how the city's survey of commercially historic places, which is just getting started, will affect Faring's proposal to redevelop French Market. Many observers say it's unlikely the survey will be completed before Faring Capital's plans are fully vetted through all city regulatory departments and city council action.
History of 7969 Santa Monica Blvd.
This building was one of the most successful burlesque houses of all time. As the Pink Pussycat in the 1960s and 1970s, owners Harry and Alice Schiller transformed a striptease club into a Los Angeles landmark with classy performances where husbands were proud to take their wives for a night on the town. Frank Sinatra and other members of the so-called Rat Pack were regulars, and they in turn drew the Hollywood set.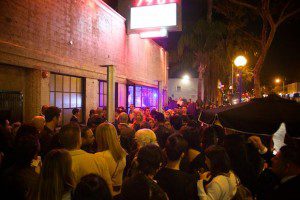 "By day, the club was transformed into the College of Strip Tease," The New York Times states in a 2009 article. "The Pink Pussycat was not the only American strip club to have an adult-education division, but it undoubtedly had the most distinguished faculty: Sally Marr, the noted striptease artist, was for many years its de facto chancellor, provost, dean and sole professor. (Ms. Marr's son, the comic Lenny Bruce, sometimes appeared on the Pink Pussycat's stage.)"
Comedian Bob Hope confirmed the club's status when he quipped at the 1964 opening of the downtown Los Angeles Music Center, "L.A. needs culture and the Pink Pussycat can't do it alone." When Alice Schiller died in 2009, national news media including The New York Times, The Washington Post and Time magazine all ran glowing obituaries.
The Pink Pussycat helped cement West Hollywood's reputation as a place where all sexually oriented lifestyles were not only tolerated but welcomed.
Most recently, the iconic building was home to the DBA nightclub, which closed in June 2015. Prior to DBA, the building housed a jazz club in the 1950s and a lesbian bar known as Peanuts in the 1970s. 1