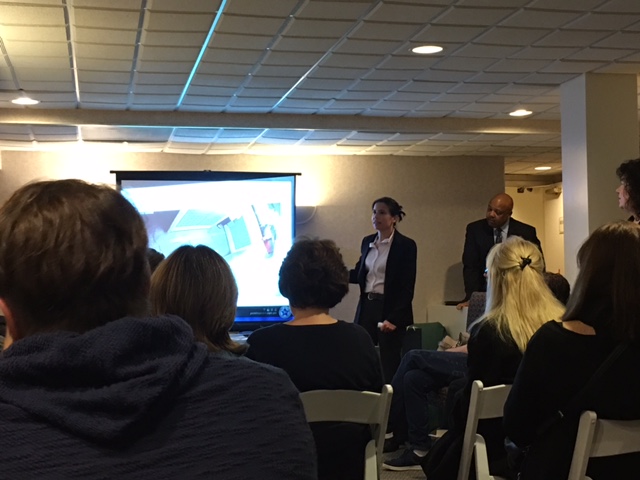 More than three dozen residents and City Councilmember Lauren Meister turned out tonight for a meeting with representatives of the U.S. Postal Inspection Service about the epidemic of apartment building and mailbox break-ins in West Hollywood.
Angela Ferris, who is a USPIS supervisor for mail theft prevention, told the group that she and Christine Reims Jarrin, who also attended the meeting, were part of the only USPIS team in the nation that focuses solely on mailbox thefts. That is a reflection of the severity of the problem in Southern California, which leads the nation in such thefts, Ferris said.
Local residents recounted stories of break-ins in their apartment and condo buildings by thieves using copies of Postal Service "master keys." Master keys are used to open locks on the front doors of multi-unit residential buildings and also to open the panels covering the individual mailboxes inside. The USPIS refuses to disclose the number of buildings broken into using postal master lock keys. But WEHOville readers have reported 22 such break-ins so far.
The USPIS representatives and members of the West Hollywood Sheriff's Station offered tips on how to safeguard one's mail (i.e. pick it up early, have it held by the post office when you're traveling.) But the USPIS representatives offered few details on what postal officials are doing to stop the crimes other than to say that they are pressing the postal service to replace all "master locks" at multi-unit residential buildings in Los Angeles County.
Ferris said the lock replacement effort will take a long time and is focused on areas that are most at risk. However she refused to say how many locks have been replaced or what buildings or areas are priorities for the postal service. She also declined to provide a timeline for finishing the replacements. Her comments suggested that the USPIS is limited to recommending the lock changes and that the postal service itself has to decide whether to do that. Perhaps by coincidence, the postal service replaced the master locks at 906 North Doheny yesterday according to Aaron Micu, president of the building's homeowners association. Micu said he learned of the replacement when he saw a worker doing it but otherwise hadn't been informed. Ferris said she didn't know whether the postal service informs residents of a building when it changes their master locks.
Ferris also refused to answer questions about whether an individual master key can open only buildings and mailboxes on a particular route or in a particular Zip Zone or in a larger area. Georgina Moore, a resident of 906 North Doheny, said that a friend who works with the postal service told her that a single master key can open locks across the country. Other residents said they believe that a single key can open all locks in particular Zip Zone. "It's an antiquated system," one resident said. "You are handing out keys to my building, my home."
Ferris said that counterfeit keys used to open master locks aren't necessarily copies of keys that have been lost by or stolen from postal workers. The postal service requires that such keys be locked away except when being used by a mail carrier, who must attach the key to his or her body while on a delivery route. Ferris refused, however, to explain how a thief would make a copy of a key that he doesn't have access to.
In their presentation to the residents, Ferris and Jarrin blamed the large number of thefts in Southern California on methamphetamine addicts looking for money to buy drugs. They also blamed the impact of Proposition 47, a proposal overwhelmingly supported by state voters in 2014 that reduces the sentence for drug possession and other minor crimes to a misdemeanor from a felony. Ferris said that the USPIS can't prosecute someone on the federal level for committing a minor crime such as mailbox break-in if it isn't considered a felony on a state level. Generally, thefts are considered felonies if they involve the taking of goods valued at more than $950. Detective Carlos Ortega of the West Hollywood Sheriff's Station, who is leading its investigation of the break-ins, said the district attorney has agreed to file felony charges in such break-ins. He said those arrested in one of the break-ins at 906 North Doheny are being prosecuted on felony charges in federal court.
While the USPIS representatives tonight described the break-ins as largely the work of drug-addicted individuals, investigators at the West Hollywood Sheriff's Station have said they believe it could be the work of organized gangs who pay individuals to do the break-ins. It is the gang members who then use stolen information such as bank account numbers and Social Security numbers to divert money from bank accounts. In October, Jake Boyd, a USPIS agent, told WEHOville that those arrested in the 906 North Doheny break-in "were the ringleaders of a larger group which we are still working to identify. They have been charged with several federal felonies each for mail theft and fraud-related matters."
Several residents also complained that they had called the West Hollywood Sheriff's Station to report mailbox thefts but that their calls hadn't been returned. One of them was Aaron Micu, president of the homeowners association at 906 N. Doheny Dr., who organized tonight's community meeting. Joe Guardarrama, another resident of 906 North Doheny, said he would work to establish a neighborhood watch group for that area. Neighborhood watch groups http://www.ncpc.org/topics/home-and-neighborhood-safety/neighborhood-watch are composed of residents of an area who band together to share information about crime and conditions that might contribute to crime with one another and local law enforcement agencies.