---
It's official. The long-rumored move of Grindr's headquarters to the RedBuilding at West Hollywood's Pacific Design Center has been confirmed by Grindr.
Grindr, which operates the world's best known hook up app for gay men, previously was located in Hollywood. It will take over 18,000 square feet on the RedBuilding's 14th floor.
.
"We are pleased to welcome Grindr to the RedBuilding where they join a prestigious roster of creative tenants," said Charles Cohen, owner and developer of the RedBuildiing. "Our West Hollywood location puts Grindr at the center of the L.A. region's thriving and creative epicenter."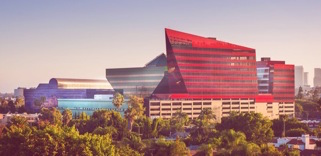 Founded in 2009 and now with a global reach, Grindr is a social lifestyle network that provides research and information on lifestyle trends and promotes health and wellness activities, as well as provides other quality-of-life information. This service has also expanded into other facets of to provide social and professional networking functions similar to Linkedin, Twitter, Google Plus, Facebook and Tinder all rolled into one. Members can use Grindr to find a job and keep up with professional contacts, for real-time communications with friends and followers, or connect for other social activities.
The RedBuilding is occupied mostly by creative tenants. Recent additions include: Clique Media, a media and commerce company behind popular fashion, beauty and lifestyle websites; Viceroy Hotel Group, known for its two Viceroy Hotels and Resorts and Urban Retreat brands; Abrams Artists Agency, a diversified talent and literary agency; Whalerock Industries, Inc., an independent media/technology company that delivers content across all devices and has strategic alliances with MGM, Starcom MediaVest, P&G, AOL, YouTube and Microsoft; Gaumont International Television, a producer of high-quality drama and comedy television programming for U.S. and international markets; AllSaints USA, a UK-based, global high-end clothing retailer, and Criteria Corp, a leading provider of web-based pre-employment testing services.
Founded in 2009, Grindr now claims two million regular users a day in 192 countries. A financial disclosure cited by The New York Times said Grindr's revenue was $32 million in 2014, an increase of 29 percent from $25 million in 2013. Earlier this week it was revealed that China's Beijing Kunlun Tech Company has purchased a 60% stake in the company, valuing it at $155 million.