A visitor stepping into the lobby of West Hollywood's City Hall shouldn't interpret the presence there of a very large statue of Bullwinkle holding Rocky as an endorsement of the politics of Frostbite Falls, Minn., their fictional home town. And come next holiday season, the presence of a Christmas tree or a lighted menorah shouldn't be interpreted to mean that progressive West Hollywood has gotten all religious on us.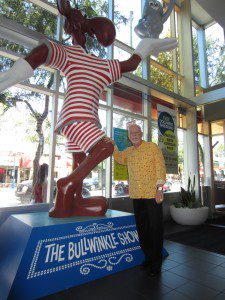 The City Council will be asked at its meeting on Tuesday night to approve a proposal by Mayor Lindsey Horvath and City Councilmember John D'Amico that would authorize staffers to develop annual "end-of-year holiday celebration practices such as menorah lighting and Christmas tree lighting at City Hall, that are in keeping with constitutional protections as well as the creative celebration of our community members' traditions and cultures." A memo to the council says: "This item is not meant to limit the holiday celebrations to only a menorah lighting and Christmas tree lighting. Other celebrations or recognitions can be considered if proposed."
If approved by the council, the proposal will take WeHo one more step away from the city council's decision after incorporation in 1985 to remove Christmas from the list of official city holidays. That happened after the council was told that an earlier decision to declare Yom Kippur an official holiday wasn't legal because the city couldn't officially recognize a religious event. The council's decision to strike both Jewish Yom Kippur and Christian Christmas from its list of official holidays was dubbed the "Grinch law." Under the decision, City Hall would remain open on both days, although city employees had the right to take the day off.
But in 1986, a few weeks before Christmas, the council reversed that decision. 'There was a growing sense that West Hollywood was out of step with the rest of the country," then-Mayor Stephen Schulte was quoted as saying. "Now we've righted things. So much for the Grinch law."
The only council member voting against recognizing Christmas was was Alan Viterbi, who introduced the original ordinance that eliminated Christmas as a city holiday. "I think this is a mistake on the council's part," Viterbi told the Los Angeles Times. "We're compromising our principles."
If the council approves Horvath and D'Amico's proposal, the city will set aside $10,000 for use by local artists, performers and businesses to promote what it calls " the winter holidays, the winter season and celebrations across the city."
The council will meet at 6:30 p.m. Tuesday at the City Council Chambers, 625 N. San Vicente Blvd., south of Santa Monica.