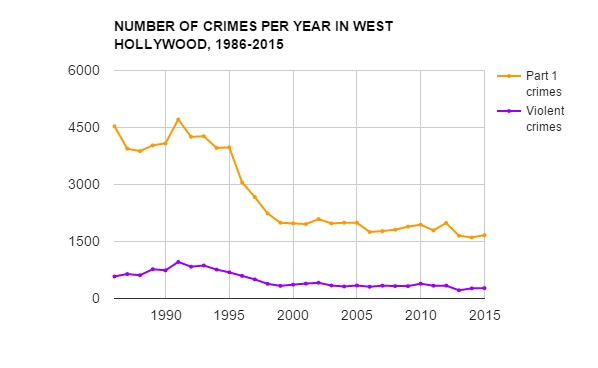 EDITOR'S NOTE: This is the first in a series of weekly posts of data and facts about West Hollywood compiled by David Warren. Warren is a 15-year resident of West Hollywood and current chairman of the city's Transportation Commission. He is Harvard- and Wharton-educated with an MBA in finance and statistics. As the son of a town manager, he has always been interested in local government. He advised city and state governments earlier in his career. Like many residents, David first got involved in West Hollywood community issues because of a proposed development near his home. He started gathering and crunching numbers to understand the city government's work. Last year, he founded WeHo by the Numbers, hoping that its just-the-facts content would be helpful to other community members. David is married, with one dog.
WEHOville recently reported that crime in West Hollywood fell 12% in December versus the same month in 2014. In September, crime rose 40% versus a year earlier. This volatility makes it hard to see trends in monthly data, but they can be seen in the full-year crime numbers.
The short-term crime trend is up. Part 1 crime was 4% higher in 2015 than 2014, based on the sheriff's reports to the city. A jump in reported petty thefts drove most of the increase.
Part 1 crimes include homicide, rape, aggravated assault, armed robbery, strong-arm robbery, residential burglary, commercial burglary, grand theft, vehicle burglary, petty theft, grand theft auto and arson.
Violent crime also grew 3% in 2015 versus 2014. Most of that increase was in the number of reported rapes, which went back up in 2015 after dropping by half in 2014.
West Hollywood is not the only city that experienced more crime in 2015. In Los Angeles, Part 1 crime grew 13% and violent crime rose 20%, according to a recent LAPD tally. In Beverly Hills, Part 1 crime rose 13% but violent crime declined 15% in the first 11 months of 2015, according to BHPD's November report.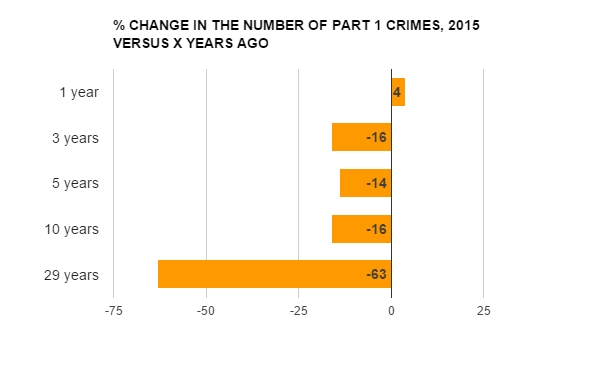 In the long term, West Hollywood crime has trended down. Part 1 crime fell roughly 15% over 3-, 5-, and 10-year periods. It declined 63% over the 29 years of data available from the California Attorney General. In other words, crime has dropped almost two-thirds since the city's early years. Crime in 2015 was among the lowest in the city's history.
Long-term, violent crime also trended downward. Violent crime dropped 19% to 30% over 3-, 5-, and 10-year periods. In 2015, it was half of what it was in the city's early years, a 53% decline. As a result, incidents of violent crime in 2015 were among the lowest in the city's history.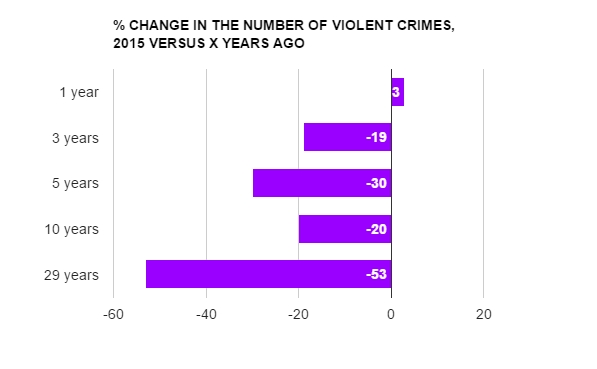 For more information, please see the related article at WeHo by the Numbers: Updated: How did crime in 2015 compare to the past?.
David Warren, the founder of WeHo by the Numbers, is a West Hollywood resident who explores community issues and the City government's work through numbers. He welcomes suggestions and corrections at WeHoByTheNumbers.com.