Among West Hollywood's residential streets, Gardner, Cynthia, and Laurel had the heaviest traffic, while Vista, Hayworth, Hacienda, and West Knoll had the fastest traffic. That's according to 2014 data from the city's website.
The city measured the daily traffic volume and 85th percentile speed for 131 segments on 72 residential streets. The 85th percentile speed is close to the maximum but not quite. Eighty-five percent of drivers are going the 85th percentile speed or slower and 15% are going faster.
Twenty-two of the 131 street segments had 85th percentile speeds above 25 miles per hour, which is the speed limit on most residential streets. Vista, Hayworth, Hacienda, West Knoll, Hancock, Larrabee, Olive, Sweetzer, Ashcroft, De Longpre, and Fuller had speeds between 27 and 32 miles per hour.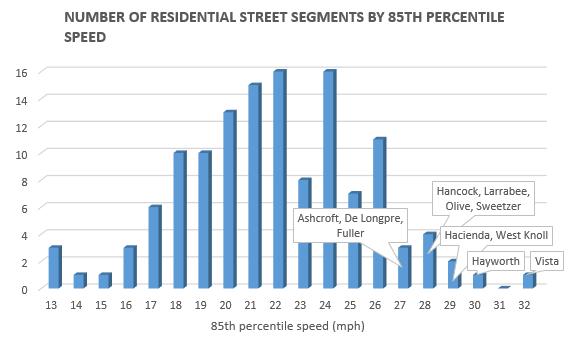 The traffic volumes on residential streets ranged from less than 500 to greater than 7,000 vehicles per day. The top streets were Gardner, Cynthia, Laurel, Willoughby, Phyllis, Vista, Sweetzer, Rosewood and Palm. They all had more than 4,000 vehicles per day. Two streets — Vista south of Santa Monica Boulevard and Sweetzer north of Santa Monica — were near the top for both speed and volume.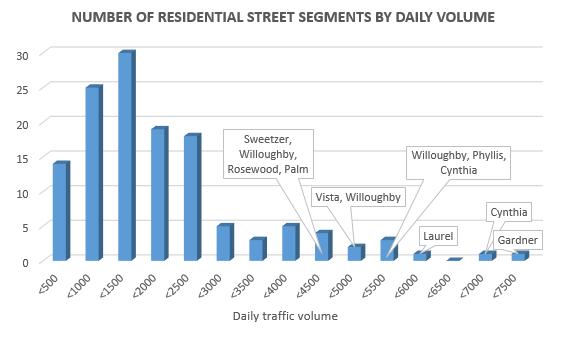 The Center City area north of Santa Monica Boulevard had six streets near the top for speed and/or volume: Hayworth, Hacienda, Sweetzer, Olive, De Longpre and Laurel. That is more than any other part of the West Hollywood. The Westside area north of Santa Monica had five streets near the top: Larrabee, Hancock, Cynthia, Phyllis and Palm. Other parts of the city had only two or three streets near the top.
Please see the Weho by the Numbers article "Updated: Which residential streets have the highest speeds and most traffic?" for the data on all 72 streets in West Hollywood.