A former Uber driver pleaded not guilty today to charges stemming from an alleged assault with his car on a customer in West Hollywood last summer.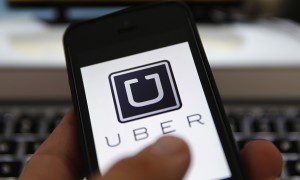 Phillip Reid Bagwell, 46, of Sherman Oaks, is charged with one felony count each of assault with a deadly weapon — his car — and attempted extortion, along with a misdemeanor count of petty theft, according to Deputy District Attorney David Berger.
Bagwell allegedly has three prior felony convictions — two for grand theft in 1990 and 1998 and one for forgery in 1991, according to the District Attorney's Office.
He was charged last September and ordered to stand trial last December in connection with the alleged attack last July 9 on a woman he had driven to a comedy club in West Hollywood.
The woman forgot her cell phone in Bagwell's car, but managed to call him to try to get her phone back, the prosecutor said. Bagwell returned, but allegedly refused to give the woman's phone back unless she paid him, Berger said.
Bagwell allegedly drove off, causing the woman to fall down and nearly running over her, according to testimony presented at his preliminary hearing in December.
He faces up to four years and eight months in state prison if convicted as charged, according to the District Attorney's Office.