How do we help the homeless in West Hollywood and also reduce the number of homeless people on our sidewalks and in our garages and backyards, some of whom have committed minor crimes? There are no simple answers. If there were an easy solution, homelessness would not be the nationwide problem that it has been for decades.
But ideas are being debated in West Hollywood because of the apparent increase in homeless people on our streets. Some people are focused on what can be done to help homeless people in WeHo proper. Others are focused on what can be done to protect local residents and their property from vagrants.
The City of West Hollywood has some immediate remedies in place for both problems. But getting out the information about that, and having a real discussion about the issue of homelessness, has been sidetracked by Nir Zilberman.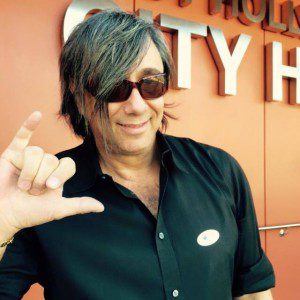 Zilberman, a clothing merchant, last Spring opened "Love No Hate" in a shop he leased at 7990 Santa Monica Blvd. Zilberman billed the place as the nation's first "not non-profit LGBT center." Given that the L.A. LGBT Center is the nation's largest provider of services to LGBT people and widely regarded as the best, it was unclear from the start what Zilberman's intentions were. As the issue of transgender rights got more national attention, Zilberman shifted his focus to offering services to that community. He scheduled numerous meetings on Facebook and almost always cancelled them the day before, apparently because there was a lack of interest in the services he was offering that community.
And now, with people worrying that coming El Nino storms will leave more people wet and shivering on the sidewalks, Zilberman's focus has shifted to the homeless. He has offered food to homeless people at his Love No Hate location (a service also long available from the Jewish Family Service's SOVA and from the Greater West Hollywood Food Coalition). He also has offered homeless people shelter (a service already available through People Assisting the Homeless (P.A.T.H.) and the Youth Center on Highland (for 18-24 year olds).) But unlike those other organizations, Zilberman doesn't have the resources or expertise to offer connections to medical, mental health and drug-abuse services that many if not most homeless people need. There's a reason why people are homeless, and it's usually a bigger reason than not having the money to pay the rent one month.
Zilberman, apparently ignorant of how those resources really work, appeared at a recent City Council meeting and shouted that the city is not doing enough to help the homeless. And now, with his landlord having demanded that Zilberman stop housing homeless people in what is supposed to be a retail shop, Zilberman has taken to Facebook to carry on his crusade. He has posted photos of himself sleeping in an alley with the homeless people he has banded together, an odd choice for an overnight stay given that he has a comfortable home of his own. And he continually claims that the City of West Hollywood, its residents and P.A.T.H. don't care about homeless people and are doing nothing to help them. It's hard to think that Zilberman believes what he says given that he drove away with apparently homeless people in a truck recently, waving at the representatives of P.A.T.H.who had turned up for a scheduled meeting that he skipped.
So if Zilberman really wants to help homeless people, we'd suggest he lower his volume and offer his services as a volunteer to one of the many organizations that already are doing that, quietly and with skill. He might consider P.A.T.H., whose array of adult services includes help in find housing, food, clothing and jobs and medical, mental and drug-abuse services. Its number is (323) 644-2216.
He might also consider the L.A. LGBT Center's Youth Center of Highland, which offers similar services for young people ages 18 to 24). Its number is (323) 860-2280.
He could turn to the Jewish Family Services SOVA operation, which provides free groceries to those in need. Zilberman can reach SOVA at (818) 988-7682. And then there's the Saban Community Clinic — (323) 653-1990 — which provides medical and dental care and showers on weekdays from 7:30 a.m. to 3 p.m.
And finally, there is an emergency shelter helpline that those who were sending homeless people to Love No Hate can use to connect them with housing and a broader array of services. Its number is (800) 548-6047 or 211. And it is answered 24/7 by someone who can help find special services for children five years old and young, for military veterans and pregnant women
That's a number Nir Zilberman needs to memorize, and put in the window of his shops, if he really wants to help the homeless in West Hollywood,