The real world of Lisa Vanderpump may be expanding. Vanderpump, who has the restaurant Sur on Robertson Boulevard and P.U.M.P. at the corner of Robertson and Santa Monica, now hopes to open a place at 8932 Santa Monica Blvd. now occupied by Showtime, a clothing store.
A request for a liquor license has been filed with the state Alcohol Beverage Control Board and on Feb. 9 representatives of Vanderpump and her husband, Ken Todd, will appear before the city's Community Development director for a public hearing on their request for permission to use the Showtime space for a restaurant that sells alcohol with outdoor dining.That request is made under the name Pinky BH LLC. Pinky is a nickname for Vanderpump used by her very close friends.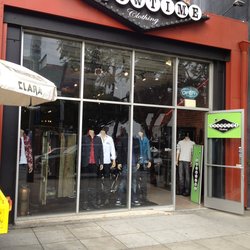 Vanderpump is known for being a character on "The Real Housewives of Beverly Hills," a Bravo reality TV show. She also has her own show, "Vanderpump Rules," which chronicles the fights and romantic affairs of the staff at Sur.
There has been a lot of movement among businesses near the intersection of Robertson and Santa Monica boulevards, an area known as Boystown for its proliferation of gay bars and gay-oriented clothing stores and restaurants. Vanderpump and Todd opened P.U.M.P. in May 2014, replacing Java Detour, which previously occupied that corner site. They have attempted to market P.U.M.P. to an upscale gay audience. Immediately behind P.U.M.P. on Robertson is Here Lounge, whose owner, Pat Rogers, has been in negotiations with David Cooley, owner of the Abbey, to sell it. However Rogers told WEHOville recently that those negotiations ended without Cooley buying Here, which Rogers will continue to operate.
Just west of the Showtime is Cooleys, a space for which David Cooley successfully campaigned for city approval to open a restaurant and bar with patios in the back and front. That gastropub was supposed to have opened many months ago and now is rumored to be back on the market, a rumor WEHOville has been unable to confirm. Showtime moved into a space occupied for six years by Chi Chi La Rue, which moved last summer across Santa Monica Boulevard.
Also on the move is the Starbucks coffee bar on the northeast corner of Santa Monica and Robertson, which will move across Robertson to the plaza occupied by Pavillions.
The Community Development hearing on the Pink BH request will take place on Feb. 9 at 5 p.m. in the community room at West Hollywood Library, 625 N. San Vicente Blvd. south of Santa Monica.