Market-rate rents in West Hollywood rose as much as 12% in 2015, based on the Zillow Rent Index for December. They increased 8% in 2014 and 4% in 2013. The increases averaged 5% a year from the index's start in 2010 through 2015.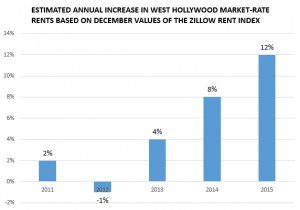 The Zillow Rent Index is based on computer-generated rent estimates for selected housing units in the city. It is not an average of actual rents being paid by tenants. Zillow has analyzed the accuracy of their rent estimates for the Los Angeles area. They report that their numbers are within 10% of the actual rent half the time and within 20% of the actual rent three-quarters of the time.
West Hollywood's 12% increase in 2015 was not unusual when compared to nearby cities and neighborhoods. The Zillow Rent Index suggests that market-rate rents rose 14% in Beverly Hills and 16% in Santa Monica from December 2014, to December 2015. Rents in Los Angeles as a whole grew only 7%, but rents in the nearby Los Angeles neighborhoods grew faster. For example, Hollywood's rents were estimated to grow at the same 12% rate as West Hollywood.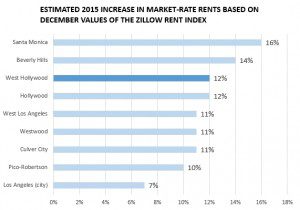 Market-rate rents for older, rent-stabilized housing also rose significantly in recent years. The average rent for new tenants increased by 6% or 7% per year in 2012, 2013 and 2014 (according to WeHo By the Numbers' analysis of data from the city's annual housing reports). The numbers for 2015 are not available yet.
Rent stabilization in West Hollywood limits rent increases for existing tenants. It applies only to units that were built and certified for occupancy before July, 1979. Many single-family homes and condominiums and some other units are exempted. Landlords of rent-stabilized units are free to reset rents between tenants, so initial rents for new tenants are market-rate. Those initial rents are reported to the city. The City Council passed a resolution earlier this year asking staffers to draft a provision that will make new housing units offered for rent or sale subject to the city's rent stabilization ordinance if they are replacing rent-stabilized units that were demolished.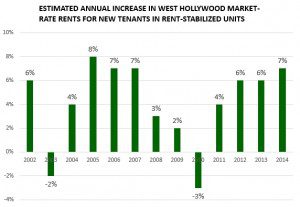 The average market-rate rent for rent-stabilized housing grew 70% from 2001 to 2014. That works out to an average increase of 4% a year, compounded over 13 years. Over the last decade, those rents rose 58%, which is an average of 5% a year.
There were two periods with bigger increases in market-rate rents for rent-stabilized units: 7% or 8% per year for 2005 through 2007 and the 6% or 7% for 2012 through 2014. There were also two years when market-rate rents actually declined by 2% or 3%. Those years, 2003 and 2010, were after economic downturns.
For more information, please see the Weho by the Numbers article "How much have West Hollywood market-rate rents gone up?"