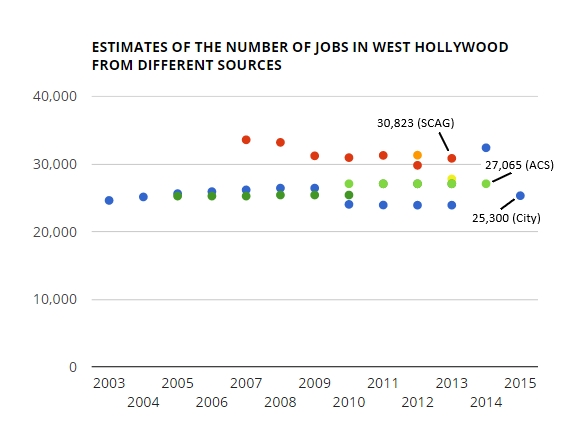 West Hollywood's workforce has at least 25,000 people and perhaps as many as 31,000. That's according to a new analysis of government data by WeHo by the Numbers. The wide range is due to the five sources used, each with its own methodology and estimate. A similar range can be seen in job estimates for neighboring cities.
The low end of the range comes from the city's just-released annual financial report. It estimates there were 25,300 jobs in West Hollywood in 2015. The high end of the range comes from the Southern California Association of Governments (SCAG). SCAG is the metropolitan planning organization for 191 cities, including West Hollywood. SCAG's most recent profile of West Hollywood says there were 30,823 jobs in 2013.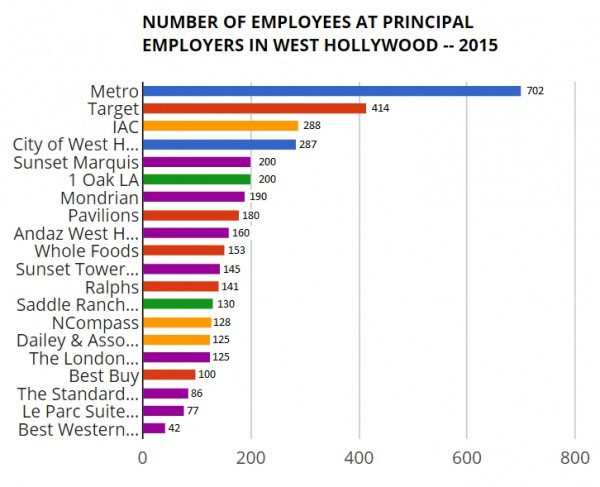 The other estimates come from three different Census Bureau data sources. They also fall roughly into the 25,000 to 31,000 range. For example, the American Community Survey's (ACS's) five-year 2010-2014 estimate was that 27,065 people were working in West Hollywood. In the accompanying chart, those numbers are represented by green dots, while the city's dots are blue and SCAG's are red. The orange and yellow dots are for the other Census Bureau data sources.
The city's newly released report also includes information about where some of these people work. The updated list of "principal employers" includes government entities, retailers, media/marketing companies, restaurants/clubs, and hotels. They had anywhere from 42 to 702 employees in West Hollywood in 2015.
The biggest employer on the list is Metro. They have a bus garage and over 700 employees here, including drivers and mechanics. Also in the top five are Target (retail), IAC (an internet media company), the city government (with 287 employees/216 full-time equivalents) and the Sunset Marquis (hotel). The House of Blues was in the top five but is now closed. It has been omitted from the accompanying chart.
Together, these organizations employ about 15% of the people who work in West Hollywood. Another 10%-plus work at home. That means 75% of workers, roughly 20,000 people, work elsewhere in the city.
For more information about job growth, job estimates and data sources, please see the Weho by the Numbers article: How many people work in West Hollywood and where?