Local women and their supporters will gather at West Hollywood's Sal Guarriello Veterans' Memorial at 11 a.m. tomorrow to show their support for One Billion Rising.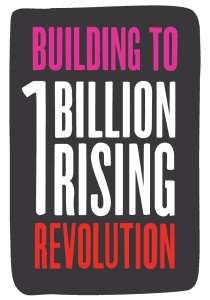 One Billion Rising is a global campaign to end violence against women and girls and take a stand against gender inequality. The campaign, launched on Valentine's Day 2012 by award-winning playwright and activist Eve Ensler, author of the world-famous play "The Vagina Monologues," began as a call to action based on the staggering statistic that one in three women on the planet will be beaten or raped during her lifetime.
Since 2013, hundreds of people have joined together in West Hollywood each year to hear celebrity speakers, to dance and to speak out in person and via social media, with the #1billionrising hashtag.
The West Hollywood event will feature guest speakers including West Hollywood Mayor Lindsey Horvath and members of the West Hollywood City Council, representatives from V-Day/One Billion Rising and celebrities such as Frances Fisher (Resurrection), Gethin Anthony (Game of Thrones), Sufe Bradshaw (Veep) and Donny Most (Happy Days). Activists such as Drian Juarez, program manager for the Transgender Economic Empowerment Project at the L.A. LGBT Center and member of West Hollywood's Transgender Advisory Board, and Alexandra Shannon, youth feminist leader, also will speak.
Musicians Michael Anthony Perna, Bitch and dance performance company Levitere are also scheduled to participate. The event will culminate with a mass dance action of the official One Billion Rising "Break the Chain" dance, choreographed by three-time Emmy Award-winner Debbie Allen.
Participating organizations include Peace Over Violence, Code Pink, A Window Between Worlds, the Hollywood Chapter of the National Organization for Women, the City of West Hollywood Women's Advisory Board, Women Manifest and Stop Patriarchy.
Following the rally, from 12:30 to 2:30 p.m., as part of the One Billion Rising event and in collaboration with the City of West Hollywood, Be Heard will be screening the stories of survivors of sexual violence at the Macha Theatre, 1107 N. Kings Rd. Admission is free. Be Heard is a project that provides a platform for survivors to speak out, aiding in their healing process, and raising awareness to the public.
For additional information about the One Billion Rising event, call (323) 848-6460 or email wehovday@gmail.com. For people who are deaf or hearing impaired, call TTY (323) 848-6496.