West Hollywood architect Ric Abramson has been elected to the College of Fellows of the American Institute of Architects. Selected by a national jury, Abramson was selected based on "his notable contributions to the advancement of the profession of architecture," according to the AIA. He will be honored in a formal investiture ceremony in Philadelphia on May 20 at this year's AIA National Convention.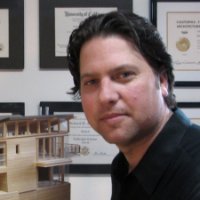 The College of Fellows recognizes distinguished achievement for contributions to architecture and society and includes over 3,200 members across the nation. Abramson joins 23 Californians to be honored this year.
Abramson studied architecture in Italy as a Fulbright scholar and as a visiting artist at the American Academy in Rome. He is a graduate of Cal Poly San Luis Obispo (BArch, 1985) and UCLA (MArch, 1996) and has served on the faculties at the Southern California Institute of Architecture (SCI-Arc 1993-98) and the USC School of Architecture (1998-2012).
A leader in the built environment and advocate for architecture, urban design, small firm practice and housing affordability, Abramson's West Hollywood-based firm WorkPlays has been active in local and statewide policy affecting his profession and his community. His firm is currently consulting with the County of Los Angeles on developing a proposed small lot/compact house ordinance and design guidelines to create new opportunities for more affordable, economically-accessible home ownership throughout the county.
A member of the AIA|Los Angeles Chapter, Abramson has served on numerous commissions, boards, task forces and select panels including the West Hollywood's Public Facilities Commission for four years and the board of directors of the West Hollywood Community Housing Corp., an affordable housing non-profit, for eight years. He currently represents California on the AIA National Strategic Council and also is promoting California's small firm interests as their representative to the national AIA Small Firm Exchange.