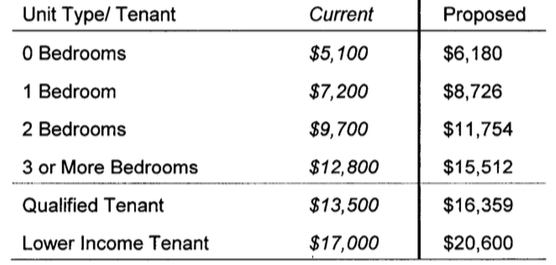 The relocation fees that West Hollywood landlords must pay tenants they evict now will increase annually, with the amount of the increase tied to the Consumer Price Index.
The West Hollywood City Council last night approved the new formula. The Council had last increased the relocation fee in 2007. It then was set at $5,100 for a studio apartment, $7,200 for a one-bedroom apartment, $9,700 for a two-bedroom apartment and $12,800 for a unit of three or more bedrooms. The new amount is shown in the chart published with this story.
Tenants in a household where at least one member is 62 years old or older, is a minor child, is terminally ill or has a "moderate income" receive $13,500 as a "qualified" tenant.. Moderate income currently falls within a range of $46,501 to $69,752 for one person in West Hollywood.   A household where at least one tenant is determined to be "low income" — earning up to $46,500 a year — receives $17,000.
Relocation fees are meant to cover costs tenants incur from moving, including providing first and last month's rent and a security deposit, moving and packing expenses and dislocation and housing costs. Landlords must pay the fees only to tenants of rent-regulated housing units which they intend to remove from the housing market under the Ellis Act. The fee will be updated on July 1 each year.
EDITOR'S NOTE:  A previous version of this story misstated the moderate income level to qualify for relocation assistance as $54,450 and the low-income level as $47,850.  The actual low-income level is $46,500 or less and the moderate-income level for one-person ranges from $46,501 to $69,752.  The story has been changed to correct the error.