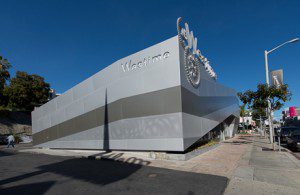 At least three men staged a robbery today at Westime, the high-end watch store on Sunset Boulevard. The robbery turned into a chase with Sheriff's deputies down La Cienega Boulevard that ended with one of the suspected robbers crashing into another car.
Sgt. Angel Fisher, the West Hollywood Sheriff's Station watch commander, said an investigation is ongoing and details are not yet available. One person has been arrested, she said.
Another merchant confirmed to WEHOville that the robbery did occur at Westime. He said he saw three or four men dressed in what looked like neon-colored worker vests fleeing the site.
The incident happened around noon.