Some residents of West Hollywood's Westside are opening their mailboxes to find stunningly large water bills from the City of Beverly Hills.
One local resident provided WEHOville with a copy of his latest bill, which totaled $455.98 for a two-month period ending Jan. 17, an increase of 214% from the previous bill of $145.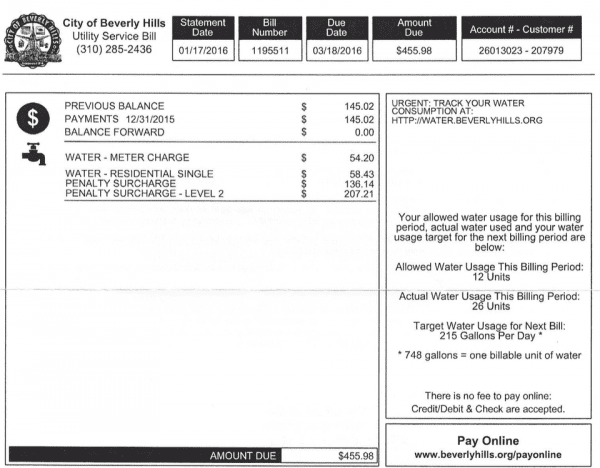 "Like most people, I have a tiny house and tiny yard, and there just isn't 30% to cut back on," the resident said in an email to WEHOville, citing the reduction in water usage that Beverly Hills is demanding. Without that reduction the city has begun to levy penalties. This resident's bill showed usage of 18,700 gallons of water in the same two-month billing period last year and 19,448 gallons used in the latest two-month period. One factor in the usage increase was a water main break, for which the City of Beverly Hills said it would reduce the bill by $5.
"I have three people living on the property – two households," said the resident, whose name WEHOville is not reporting in respect for his privacy. "I am writing an appeal to the City of Beverly Hills, but my phone call this morning to them doesn't give me any hope. They basically said tough luck and that I would need to reduce my water usage."
In October, Beverly Hills began applying penalty surcharges to the bills of water customers who fail to reduce water usage by at least 30% from the equivalent billing period in 2013. The penalty is not applied to so-called Tier 1 residential customers, those who use from 748 to 7,480 gallons of water in a two-month billing period. The penalties are:
— For customers who use between 71% and 87% of their 2013 baseline consumption target, the penalty is 1.59 times the base water rate.
— For customers who use 88% or more of their 2013 baseline consumption target, the first level penalty is 1.59 times the base water rate for usage between 71% and 87% PLUS an additional 3.08 times the base water rate for water usage that is 88% or more.
The Beverly Hills City Council also voted last year to increase water rates by 5% in November with an additional 5% increase in March 2016 if needed. The city argued that water conservation, which it is encouraging, also is reducing revenue needed to operate the water system. Beverly Hills provides water to an area of roughly 368 acres in West Hollywood whose approximate boundaries are Doheny Drive on the west, Sunset Boulevard on the north, Flores Street on the east and on Beverly Boulevard on south. The rest of West Hollywood is served by the L.A. Department of Water and Power (LADWP).
Last month the Beverly Hills council postponed action on another water rate increase presented by the city's Public Works staff that would have had a major impact on residents of West Hollywood's Westside. The council asked the staff to make a number of changes in the proposed increase including devising a different rate structure. It also raised concerns about how water charges would be allocated among residents of multi-unit buildings where individual condos or apartment don't have their own water meters.
The proposal considered by the council would have boosted the overall average rates for single-family residential customers in WeHo by 22%. The exact increases would vary according to which of four tiers of water usage a homeowner fell into. Apartment and condo building owners would have seen their rates increase 52% on average. Businesses would have faced an average rate increase of 24.6%. The size of those increases reflects the fact that Beverly Hills charges its West Hollywood customers 25% more than its Beverly Hills customers.
Beverly Hills' Public Works said the 25% surcharge levied on its WeHo customers is "in recognition that Beverly Hills has extended service out of the city limits to customers that had not contributed to the City's General Fund which funded the initial construction of the City's water system." Beverly Hills established its own water utility in 1928 when it purchased the Sherman Water Company.
The LADWP, which serves 70 percent of West Hollywood residents, is planning to implement this year its first rate increase since 2008. If approved by the LADWP board and the L.A. City Council, the increase will also include a change from a two-tier billing structure to a four-tier billing structure for individual homes. Apartment buildings would still have a two-tiered billing structure. Under its current timeline, LADWP expects the first rate hike will go into effect during the first quarter of 2016. Incremental adjustments would be made on July 1, 2016, July 1, 2017, July 1, 2018 and July 1, 2019. The proposed increase has not yet been approved by the L.A. City Council.
Because of California's serious drought, Gov. Jerry Brown last April signed an executive order implementing a mandatory 25 percent water cutback in cities and towns across the state from 2013 usage levels. It took effect June 1.