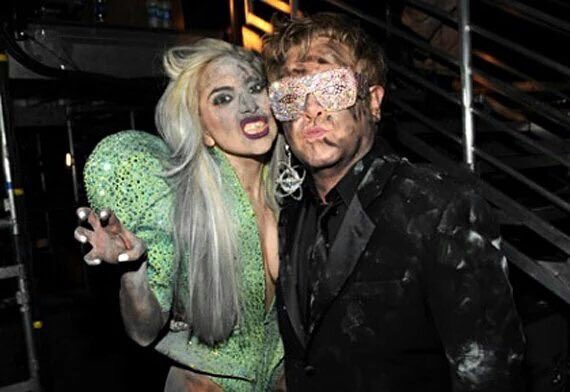 UPDATE NO. 2: Lady Gaga has announced that she will join Elton John in performing at the former Tower Records parking lot on Sunset Boulevard at noon today. The event is free, and likely to be crowded.
"Get your asses to Sunset Blvd Tower Records! 12pm PT Elton John ft Me! Live on the streets of LA!" Lady Gaga tweeted at around 11 a.m.today.
UPDATE: It has been officially confirmed that Elton John's free concert at the former Tower Records lot at 8801 Sunset Blvd. will take place at noon today.
The whispers have been unending. But now it's official, Elton John will be performing tomorrow in a free concert on the Sunset Strip.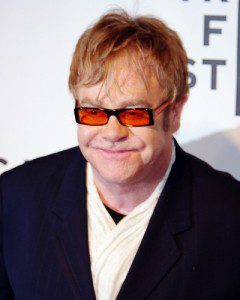 That's per an announcement by Jimmy Maymann, executive vice president and president for content and consumer brands at AOL. AOL will live stream the performance through its AOL Build and BBVA Compass.
What won't be announced until tomorrow morning is the location of the free outdoor performance. (Don't tell anyone you read it here on WEHOville, but Elton John will be singing in the parking lot of the old Tower Records building at 8801 Sunset Blvd., now home to a Gibson Guitar store.) What we don't know yet is when the free performance will begin. But you can follow Elton John on Twitter (@eltonofficial) to find out.
Billboard.com reported today that Elton John would be performing, saying it was his way of saying thanks to West Hollywood for accommodating his annual Academy Awards viewing party, which raises funds for the Elton John AIDS Foundation. That party takes place at the Pacific Design Center and West Hollywood Park on Sunday. John launched the party at the Maple restaurant in Beverly Hills in 1993. After several years of moving around in 2005 it settled in the PDC.
"We can't think of a better partner than Elton John – his iconic stature spans generations and we're excited for the opportunity to bring this incredible experience to his fans and our millions of viewers worldwide," said AOL's Maymann in a press release.
Tune in to AOL.com at 3 p.m. PDT on Saturday to stream the concert live.