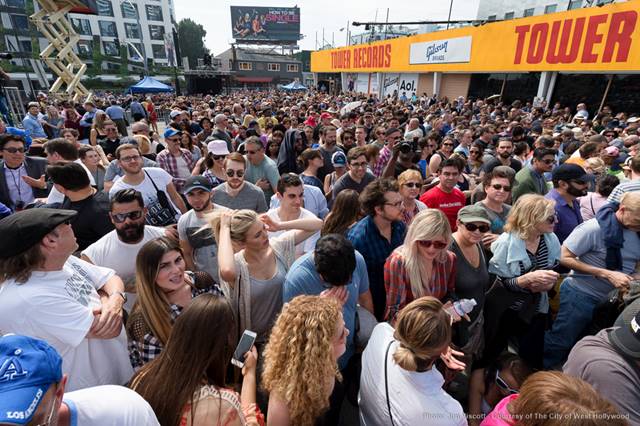 Elton John showed his love for West Hollywood today by staging a free concert with Lady Gaga before thousands of fans at the old Tower Records parking lot at 8801 Sunset Blvd.
"The city of West Hollywood has welcomed the Elton John AIDS Foundation and our annual Academy Awards Viewing Party with open arms for many years, providing us with the perfect environment to host a really fun and special evening," John said in a statement issued before the event. "We are profoundly grateful for their generous support, so I wanted to do something special just for them by giving our West Hollywood fans and supporters a surprise concert.
In a video interview with Sharon Osbourne posted @eltonofficial, his Twitter feed, John said: "It was an idea by David Furnish, my husband, who thought it would be great the night before the Oscar party, the day before the Oscar party, to do something to thank the city of West Hollywood who have been so amazing to us over the years. They give us the West Hollywood Park for nothing and so we're doing it to a: say thank you to them, and b: because it's a cool thing to do."
The Academy Awards viewing party, which raises funds for the Elton John AIDS Foundation, takes place at the Pacific Design Center and West Hollywood Park on Sunday. John launched the party at the Maple restaurant in Beverly Hills in 1993. After several years of moving around in 2005 the event settled at the PDC and West Hollywood Park.
Elton John was introduced by Mayor Lindsey Horvath who was joined at the event by Councilmember John Heilman and Councilmember Lauren Meister, who posted enthusiastic photos on her Twitter feed @meister4weho and her Facebook page.
The "Elton John Live on the Sunset Strip" performance came as somewhat of a surprise to many, including those stuck in traffic when part of Sunset Boulevard was closed for more than two hours for event. The first hint of it came from Alison Martino's Vintage Los Angeles Facebook page, which raised a question Friday evening about what was going on at the Tower Records lot. "Something's big going down at the Tower Records parking lot tomorrow!," Vintage LA said.
Elton John's appearance was officially announced late Friday, and the venue was officially announced this morning. Lady Gaga, who is godmother to Elton John's son, posted an announcement of her appearance at around 11 a.m. on her Twitter feed @ladygaga. "Get your asses to Sunset Blvd Tower Records! 12pm PT Elton John ft Me! Live on the streets of LA!"
John and his husband David Furnish lived in West Hollywood for many years at the Sierra Towers. His performance today included "Don't Let the Sun Go Down on Me," performed as a duet with Lady Gaga, and other hits such as "Rocket Man" and "Bennie and the Jets" as well as songs from his latest album, "Wonderful Crazy Night."
To see what else Jon Viscott captured at this event, take a look at the pages that follow: