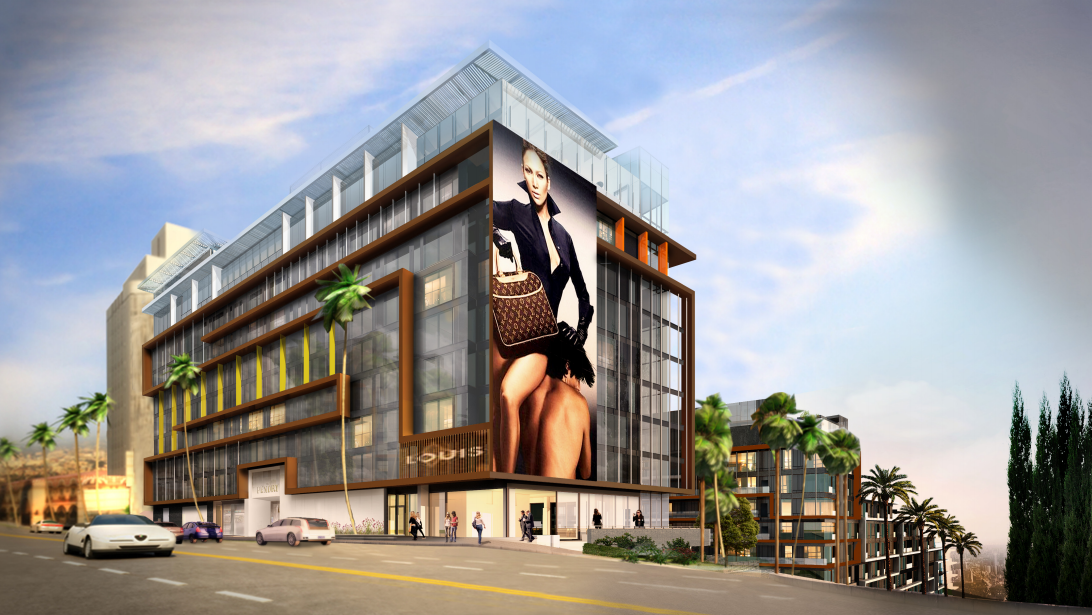 Sunset Time, a major hotel and residential project that has been in the works for years, has gone public with the latest iteration of its design.
Illustrations of the project by Erlich Architects were presented to the Design Review Subcommittee of the city's Planning Commission last night. The subcommittee approved the design, leaving the developer, Combined Properties, ready to build once it gets approval from the city's building and safety staff. The project originally was approved by the City Council in 2010, however, like many projects, it was delayed during the Great Recession.
The project consists of two buildings that will sit on the southeast corner of Sunset Boulevard and Olive Drive, where the House of Blues now is located, and extend south to Fountain Avenue. Facing Sunset Boulevard will be an eight-story hotel with 149 guest rooms, shops and a restaurant and bar. The hotel will be part of the Montage Hotel & Resort company's Pendry brand, which includes another hotel under construction in San Diego. Fronting Olive Drive and Fountain Avenue will be a 45-unit five-story condo building. The hotel building incorporates a 6,000 square-foot digital sign into its facade. Construction is expected to begin this year.
Sunset Time is one of several new hotels coming to the Sunset Strip, including the Sunset LaCienega project and the Marriott Edition hotel, which will go up on Sunset at Doheny. The Sunset Time project got an overall favorable review from Stephanie Reich, the city's urban designer.
More images of the building from Erlich Architects are on the pages that follow.