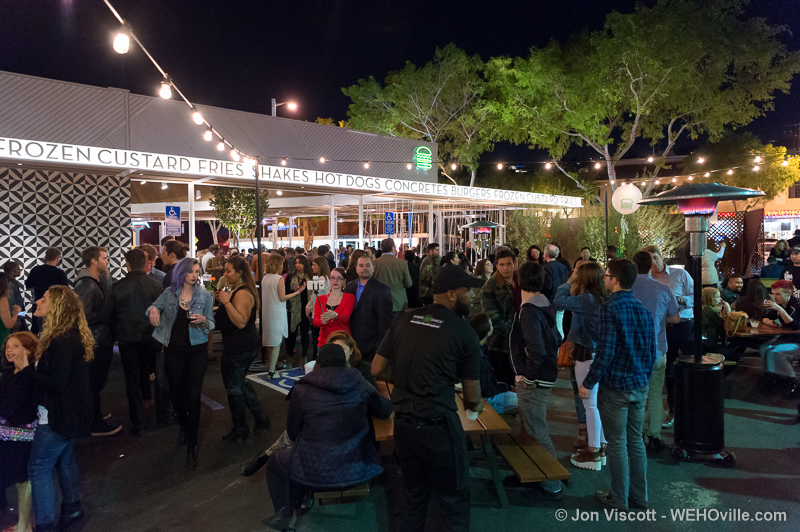 The quiet lot on Santa Monica Boulevard at West Knoll has gotten more lively with the opening this morning of Shake Shack.
The famed New York City fast food restaurant has built a stylish building designed by architect Michael Hsu on the lot once occupied by Koo Koo Roo, the fast-food chicken restaurant which has been empty for many months. Over the past several days Shake Shack has hosted private opening events, all of which have resulted in the sort of lines out the door that have characterized the original Shake Shack in New York City's Madison Square Park. Last night's event drew city notables such as Mayor Lindsey Horvath and former Councilmember Abbe Land (CEO of the Trevor Project) and her husband Martin Gantman. Duke Mason, a member of the city's Gay and Lesbian Advisory Board, also was present. This morning at 11 a.m. Shake Shack opened to the general public, again generating a line like those more often seen in the old days outside rock clubs.
The West Hollywood location is Shake Shack's first in California. The restaurant chain, which describes its locations as "modern day roadside burger stands," launched in New York City in 2004. It hopes to open a location in Glendale later this year and in downtown Los Angeles next year.
At is core, Shake Shack is a a burger restaurant. It's menu also includes hot dogs, frozen custard, French fries and crispy fried chicken sandwiches as well the the LA-only "Roadside Double," a double Swiss cheeseburger topped with Dijon mustard and onions simmered in bacon and beer. Wine and beer also are on the menu.
Shake Shack will donate five percent of sales from its "Rainbow Connection concrete" dish to support L.A. Pride and the Shake Shack team will volunteer at events run by its parent organization.
"We're stoked to finally join California's one-of-a-kind burger culture," said Randy Garutti, Shake Shack CEO, in a press release. "Shake Shack is about great burgers and so much more. We've heard from fans across LA for years, and we're humbled by the passionate response we've received so far. We invite all Angelenos to come out and see what makes Shake Shack so special."