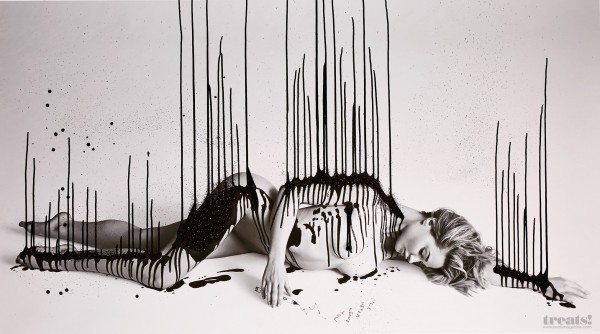 The Pacific Design Center's designLAb opens its Spring art season on Thursday with a reception that will feature several one-night only performances.
The performances at various PDC galleries include the Industry Gallery immersive installation by Los Angeles artist Lacey Stoffer, Young Projects celluloid film and 60 millimeter projections by Sandra Gibson and Luis Recorder and 4AM Gallery's 8 Loves performance / photography collaboration by Treats! Magazine founder Steve Shaw and artist Gregory Siff.
The reception will take place from 5 to 9:30 p.m. on the second floor of the PDC's Blue Building on Melrose Avenue at San Vicente. The designLAb shows coincide with Westweek, the PDC's annual Spring market. Highlights of this year's exhibits include Varola Gallery's "Morphic Fields" installation by LA-based artist Anthony James and Cairo-born Bassmi Ibrahim's ink wash paintings at Thomas Paul Fine Art. The designLAb is overseen by Helen Varola.
Lobby Exhibitions on View Through July 29
Trophy Modern's "Legacy Collection" on display in the Green Lobby features furniture designed by Los Angeles-based artist Ry Rocklen and includes "American Diner," "Emerald Club," "World Couch," "Neo Picnic Table," "World Bleacher" and "Ping Pong USA."
In the Blue Lobby are four sculptures by Matt Johnson from his series titled "Lautner Beam / Super String." Johnson created these works using repurposed cast-offs from John Lautner's demolished Shusett House that translate as rustic, metaphysical visualizations of string theory, the forms hypothesized to describe matter itself. Cast in steel from the arched beams of Lautner's modernist structure, they are reworked into trompe-l'oeil, elegant forms.
A retrospective by  designer and architect Antonio Pio Saracino examines the relationships among product design, architecture and his public art projects. Designs include the Hexa Lounge, the debut of two new designs, Sky Lounge and Mineral Table, and several other furniture pieces presented in a Saracino-designed staged setting that provides visitors with a powerful all-at-once aesthetic overview of his architecture, industrial design and fine art.
On the 5th Floor Blue Atrium is a new permanent installation by Los Angeles artist Gerardo Hacer, whose bright green origami inspired steel sculptures "The Fold: Mountain and Valley "organically address the Atrium's soaring interior. Opening later this spring, Hacer's large scale sculptures will be on view outdoors on Santa Monica Blvd at Doheny Drive as part of the City of West Hollywood's Art on the Outside program.
Ongoing through May 8 at MOCA Pacific Desgin Center is "Catherine Opie: 700 Nimes Road," a personal portrait of Elizabeth Taylor through Opie's photographs of the actress' personal space and mementos.
designLAb Galleries (Second Floor, Blue Building)

Boîte Noire Gallery
Michael Flomen: "Under the Cover of Darkness"
March 24 – May 20
B222
boitenoiregallery.com
A pioneer in his field, Flomen exposes photographic paper and large format film to vari-ous light sources, including the moon, fireflies, and a handheld flash. Natural elements such as snow, rain, water, and wind also comprise his materials.
Cantor Fine Art
Michael Mapes
March 24 – May 20
B275
lawrencecantorfineart.com
Mapes' richly layered, fragmented portrait assemblages reveal an eclectic mix of mate-rials that depict pin ups and nudes.
Christopher W. Mount Gallery
"Mapping the Information Age"
Extended to May 20
B267
christopherwmount.com
On view are works by architectural visionary Bryan Cantley and early photographs by Bernd and Hilla Becher.
CMay Gallery
Yi Hwan Kwon
March 24 – May 13
B222
cmaygallery.com
CMay's exhibition of Kwon's sculptures that extend and distort space and time are on view concurrently with the artist's outdoor "Bus Stop" installation at the entrance to West Hollywood Park, as part of the City of West Hollywood's Art on the Outside program.
4 A.M.
Gregory Siff/Steve Shaw: "8 Loves"
March 24 – May 20
B273
4artmanagement.com
4 A.M. gallery presents a performance/photography collaboration between Steve Shaw and Gregory Siff.
Industry Gallery
Lacey Stoffer
March 24 – May 20
B270
industrygallery.net
Industry Gallery (recently named among Art + Auction's Power 100) presents an immer-ive installation by Los Angeles artist Lacey Stoffer.
Micucci Arte
Carlo Scarpa: "Venini Venetian Glass Design 1931-1947"
B209
micucciarte.com
Thomas Paul Fine Art
Bassmi Ibrahim
March 24 – May 20
B275
tpaulfineart.com
Thomas Paul Fine Art presents ink wash paintings by Cairo born Bassmi Ibrahim.
Varola
Anthony James: Morphic Fields
March 24 – July 29
B256
helenvarola.com
Varola presents 8 monumental bronze sculptures by Los Angeles-based artist Anthony James.
Young Projects
Sandra Gibson, Luis Recoder / Ezra Johnson
March 24 – May 6
B210
youngprojectsgallery.com
Young Projects presents celluloid film and 60 millimeter projections by Sandra Gibson and Luis Recoder. Young's secondary project space presents painterly animation by Ezra Johnson.