The twice-monthly West Hollywood City Council meeting provides an important forum for residents to raise issues before their elected officials and one another and for members of the City Council to debate issues before enacting policies that affect all of us.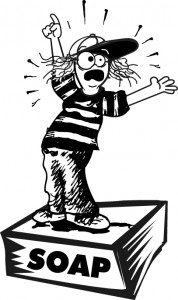 But some of those attending City Council meetings apparently don't understand that they are a forum for all of us. People who want to scream and curse, rant about items not on the Council agenda and engage in vitriolic and profane attacks on Council members and one another interfere with those of us who want to engage in civilized discussion and debate. They effectively deny our freedom of speech. They need to be stopped.
At a previous Council meeting, City Attorney Mike Jenkins called out Ivy Bottini for her off-topic tirade about the settlement of the Ian Owens lawsuit. Jenkins was blasted by some of the Council's regular attendees, who argued that Bottini's reputation as an activist gave her a right to break the rules. Tonight Jenkins revealed that he had called Bottini to apologize for upsetting her, and to explain why he called her out for speaking off topic. Jenkins' apology was considerate, but Bottini's off-topic rant was not.
Neither was the profanity used by Scott Rice in his emotional condemnation tonight of Councilmember John Duran. Nor are the shouts by Jeanne Dobrin, the justifiably beloved 95-year-old (and somewhat deaf) West Hollywood resident, who must stop screaming at speakers to state what city they live in.
The city has standards for conduct at public meetings. They make clear that "Abusive, derogatory and slanderous language is inappropriate. "
"Members of the audience shall not engage in disorderly or boisterous conduct, including the utterance of loud, threatening or abusive language, whistling, stamping of feet or other acts which disturb, disrupt, impede or otherwise render the orderly conduct of the City Council meeting unfeasible.
"Persons in the audience will refrain from creating, provoking or participating in any type of unwelcome physical contact."
These are standards our mayor must strongly enforce to promote the civic engagement that West Hollywood needs more of.