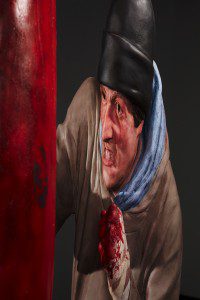 The City of West Hollywood and its Arts & Cultural Affairs Commission — in collaboration with CMay Gallery — will install "Bus Stop," the first piece of public art by renowned Korean artist Yi Hwan-Kwon exhibited in the United States, in West Hollywood Park tomorrow. The mixed media work is part of "Art on the Outside," the city program that installs temporary artworks on West Hollywood's medians and in its parks.
From 4:30 to 5 p.m. there will be a public reception to present the project, hosted by the city and CMay Gallery. Yi Hwan-Kwon will attend. The reception will take place at the installation site, located on the concrete stage just north of the West Hollywood Library at 625 N. San Vicente Blvd. and opposite the Pacific Design Center (PDC). Immediately following the reception, there will be an opening for Yi Hwan-Kwon's solo show "Sight Lines" at CMay Gallery inside the PDC during designLAB from 5 to 9:30P p.m.
"Bus Stop" (127 x 57 x 22 inches) features nine hand-painted sculptures—a bus stop, a fire hydrant and seven unique "city" people, that have been stretched vertically, which disorients the viewer and encourages a moment of pause and reflection.