West Hollywood Airbnb listings grew an estimated 24 percent over seven months, while "active" listings grew 32 percent. That's according to a new analysis by WeHo By the Numbers of data from a third-party website, Inside Airbnb.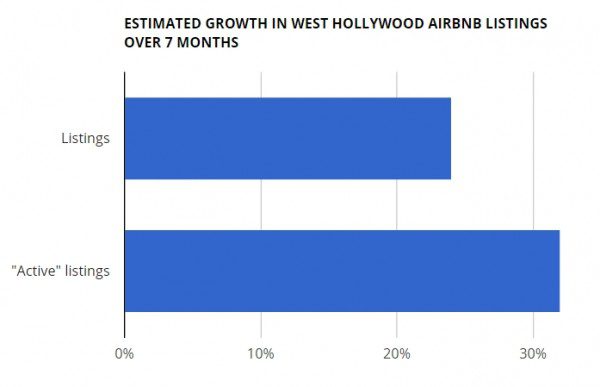 There were 761 West Hollywood listings at the beginning of January versus 615 in late May of last year. The net growth of 146 came from more than 400 new listings, partially offset by over 250 deleted listings. Listings without recent activity were more likely to be deleted.
These counts are based on physical locations within the city's boundaries. The numbers would be higher if they included every listing with "West Hollywood" in the description. Sometimes West Hollywood-adjacent rentals are described as being in West Hollywood.
The analysis also identified a smaller set of "active" listings. Any listing that got a review in the prior six months was counted as active. By that definition, there were 475 active listings at the beginning of January. Seventy percent offered a whole home. The rest offered a room. Thirty-three percent were offered by hosts with more than listing.
For Los Angeles County as a whole, total Airbnb listings increased 42% during the same seven-month period, twice the growth rate in West Hollywood. The Los Angeles Times recently reported that Airbnb is becoming more of a concern for the hotel industry. There is evidence that Airbnb may be affecting hotel room rates in areas with many Airbnb listings, such as Santa Monica.
In July, the West Hollywood City Council passed an ordinance to "to clarify the existing prohibition of Short Term Rentals." The ordinance took effect in October. City staff is expected to return to the Council with a status update and some additional information in the next couple of months.
For more information, please see the WeHo by the Numbers article, How big is Airbnb in West Hollywood?